Peter Sagan bunny-hops up 29 steps at team training camp in Mallorca (video)
Bora-Hansgrohe rider takes a slightly different approach to off-season training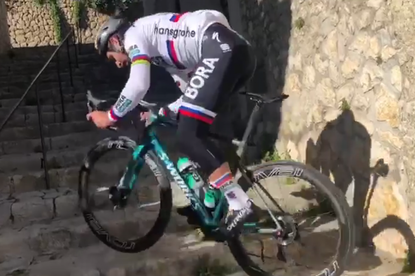 When you think of Peter Sagan, a number of things may spring to mind. Stunning race wins in the Classics and Grand Tours, clown like antics with his team-mates and fellow pros and of course his supreme bike handling skills.
However, the three-time world champion has taking his ability up another step (quite literally) this morning, as he bunny-hopped up 29 steps in an alleyway in Mallorca.
Posted on social media, Sagan said: "I thought I would take a shortcut in our training ride in Mallorca but, as my friend Daniel Oss says, this one is tough even on foot..."
It wasn't all plain sailing for the Slovakian national champion though, despite comfortably ascending up the first 17 steps with ease he took a brief pause to gather himself.
As he conquered another ten, it seemed as though he may fall just a few steps from the top as he yelled out whilst gasping for air and leaning against the wall.
However, he managed to rekindle his breath and balance before making one last effort. Meaning he would make it to the top unscathed.
This - unsurprisingly - isn't the first time Sagan has showcased his physical ability outside of a racing environment, whether it is showing off his bike football skills or sharing his almost unbelievable core workout.
Sagan is set to start the new season with Bora-Hansgrohe at the 2019 Tour Down Under, the year's first WorldTour race.
Thank you for reading 5 articles this month* Join now for unlimited access
Enjoy your first month for just £1 / $1 / €1
*Read 5 free articles per month without a subscription
Join now for unlimited access
Try first month for just £1 / $1 / €1
Paul Knott is a fitness and features writer, who has also presented Cycling Weekly videos as well as contributing to the print magazine as well as online articles. In 2020 he published his first book, The Official Tour de France Road Cycling Training Guide (Welbeck), a guide designed to help readers improve their cycling performance via cherrypicking from the strategies adopted by the pros.