Pinarello comes under fire for 'sexist' e-bike ad campaign
Brand's e-bike launch powered off to a bad start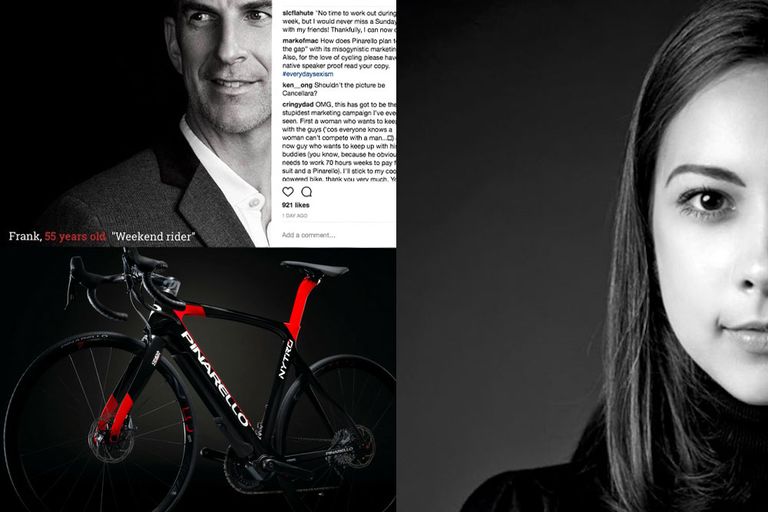 Italian bike brand Pinarello has been accused of sexism and ageism following the ad campaign which accompanied the launch of its first electric road bike.
The 'Nytro' e-bike was unveiled on social media on Monday, promising to offer ride quality matching a "real Pinarello", with a claimed weight of just 13kg.
The brand defined its intended audience as a "wide target, from the one that has no time to train but would never miss a weekend ride with friends, to women who would like to follow easily the men's pace, or even the ones who desire to experience cycling as a new way of life, climbing easily and going downhill safely, enjoying every single minute on the bike."
Pinarello backed the release of the bike up with a series of posts on the social media platform, Instagram - featuring female and older cyclists they felt were likely to choose the e-bike - which can assist the rider up to 400 watts.
The brand has since removed its first Instagram post, which featured a woman claiming keeping up with her boyfriend "seemed impossible."
Its second ad, starring the suited 55-year-old male 'Frank' - who has "no time to work out during the week" - remains online.
The images and accompanying stories were met with wide ranging criticism from men and women.
Stefan Wyman - husband to nine time cyclocross national champion Helen Wyman - accumulated a great deal of support following his 'version' of the advert:
Wyman's response seemed to top the charts, but plenty more chimed in with similar sentiment...
The notion that men aged 55-years-old might opt for an e-bike thanks to having "no time to work out during the week" hasn't come under quite such heavy fire - thought it certainly hasn't helped Pinarello's case.
Countless brands have targeted their e-bikes at female and older cyclists, and many report that it's these groups where they're seeing the most sales.
However, Pinarello's ads have received greater criticism, arguably because the campaign insinuates a more blanket discrepancy in speed and power between the 'average' young male when compared with women and older men.
Pinarello has since apologised for the adverts, and removed them from social media and the company website.
"Our recent advertisement failed to reflect the values of diversity and equality that are core to Pinarello," a company statement read.
"The Nytro is designed to make cycling accessible to more people and our advertisement clearly failed to convey that message. We sincerely apologise and have pulled the ad."
Thank you for reading 5 articles this month* Join now for unlimited access
Enjoy your first month for just £1 / $1 / €1
*Read 5 free articles per month without a subscription
Join now for unlimited access
Try first month for just £1 / $1 / €1
Cycling Weekly's Digital Editor Michelle Arthurs-Brennan is a traditional journalist by trade, having begun her career working for a local newspaper before spending a few years at Evans Cycles, then combining the two with a career in cycling journalism.
When not typing or testing, Michelle is a road racer who also enjoys track riding and the occasional time trial, though dabbles in off-road riding too (either on a mountain bike, or a 'gravel bike'). She is passionate about supporting grassroots women's racing and founded the women's road race team 1904rt.
Favourite bikes include a custom carbon Werking road bike as well as the Specialized Tarmac SL6.