Pinarello apologises for 'sexist' e-bike advert which 'failed to reflect company values'
Advert featured female rider who "would like to follow easily the men's pace"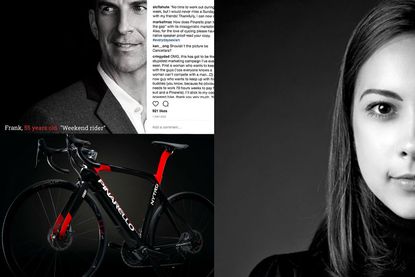 Pinarello has issued an apology after facing a social media backlash over an advertisement for its new electric bike.
The Italian brand came in for significant criticism over the publicity for its new Pinarello Nytro e-bike, saying that the bike was aimed at "women who would like to follow easily the men's pace, or even the ones who desire to experience cycling as a new way of life, climbing easily and going downhill safely, enjoying every single minute on the bike."
>>> Pinarello comes under fire for 'sexist' e-bike ad campaign
One post on Instagram also featured a photo of a woman - 24-year-old Emma which the company described as a "couple rider" - together with the caption "I've always wanted to go cycling with my boyfriend but it seemed impossible."
Pinarello also faced accusations of ageism over another post which featured a suited 55-year-old man called Frank who had "no time to ride during the week."
Watch: What's it like to ride a motorised bike?
The first advert was quickly taken offline, with the rest of the Instagram posts associated with the campaign also removed as the company issued an apology.
"Our recent advertisement failed to reflect the values of diversity and equality that are core to Pinarello," a company statement read.
"The Nytro is designed to make cycling accessible to more people and our advertisement clearly failed to convey that message. We sincerely apologise and have pulled the ad."
>>> Five best electric bikes for 2017: all you need to know about e-bikes
Pinarello is far from the first cycling manufacturer to have been accused of sexism in its publicity campaigns, with Colnago apologising for using a picture of a woman bent over a bike the caption "ready for the weekend ride?" in 2015 and Specialized also apologising for launching a 'Playboy' edition of one of its e-bikes last year.
As well as taking its advertisements of social media, Pinarello has also replaced photos and captions on its site with videos of journalists talking about their first thoughts on the new bike.
Thank you for reading 20 articles this month* Join now for unlimited access
Enjoy your first month for just £1 / $1 / €1
*Read 5 free articles per month without a subscription
Join now for unlimited access
Try first month for just £1 / $1 / €1