Pro cycling's greatest injustices
After Richie Porte was penalised for accepting a wheel from a rival rider at the Giro, we take a look back at other harsh verdicts handed out to riders over the years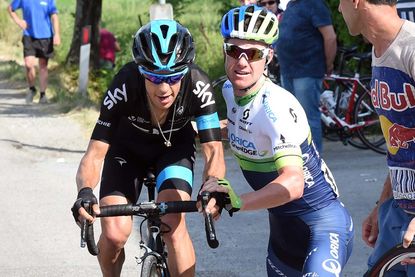 (Image credit: Graham Watson)
When Simon Clarke stopped to give Richie Porte a wheel after the latter had punctured during stage 10 of the 2015 Giro d'Italia, many recognised the gesture as a rarely-seen piece of sportsmanship. Two riders from rival teams: one helping the other out in the interests of fair racing.
What neither of the fellow Australians seemed to realise at the time was that their actions were strictly against UCI race rules. After the stage, the race jury decided that both riders should be fined and handed a time penalty. In the case of Porte, that meant he slipped from third at the start of the day to 12th by the end of it.
There was a public outcry. How could such a gesture of sportsmanship end up with both riders being penalised?
The Porte/Clarke incident is far from the only perceived injustice handed out by race judges or organisers during cycle racing's long history. Here we take a look at some other memorable instances.
Eugène Christophe - 1913 Tour de France
https://www.youtube.com/watch?v=zJ8QCDyB3Mo
Possibly the most famous example of bike racing injustice of them all. Frenchman Christophe was riding up the Tourmalet with Belgian Philippe Thys, both racing for the overall lead. Disaster struck. Christophe crashed, snapping his forks.
With no outside assistance allowed, Christophe trudge many miles to a blacksmiths, where he set about fixing his bike under instruction from the blacksmith himself. He lost hours in the process, but matters were made worse when he was given a time penalty for allowing a seven-year-old boy to work the bellows on the forge.
Marshall 'Major' Taylor
https://www.youtube.com/watch?v=AMm9iluwmy8
Major Taylor was a groundbreaking figure in American cycling during the late 1800s and early 1900s, setting numerous world records and wowing crowds with his incredible turn of speed. As an African-American, Taylor encountered racial discrimination, and physical and verbal abuse throughout his illustrious career, with race organisers, cycling federations and riders involved.
None of this prevented Taylor from carrying on cycling, and he was well known for his honesty and sense of sportsmanship. His injustice continued to his death in 1932, his money gone on bad investments, Taylor was buried in an unmarked grave. Only later was a proper memorial given to one of America's greatest sportspeople and he was recognised for his achievements.
Laurent Fignon - 1984 Giro d'Italia
https://www.youtube.com/watch?v=mKkbMuc_W5g
The result sheet says that Francesco Moser won the 1984 Giro ahead of Laurent Fignon, but for many that result will always be tainted. Race officials appeared to be conspiring against Frenchman Fignon in favour of 'home' Italian favourite Moser.
A key mountain stage on the Stelvio Pass that favoured Fignon was inexplicably cancelled, and Fignon claimed that a television helicopter had flown low in front of him during the time trial to make him struggle against its downdraught.
Mark Cavendish - 2008 Tour of California
As the most successful sprinter of his generation, Cavendish has often been at the centre of controversy. The hectic finale of sprint stages often lead to riders switching lines and crashes, many of which result in penalties handed out to riders found guilty of breaking the rules.
However, it wasn't action during a sprint that saw Cavendish stripped of his race win on stage six of the 2008 Tour of California. The Manxman had punctured 10km from the finish and changed his bike, then worked his way back up to the peloton at times drafting behind team cars. Pretty standard practice. However, in this instance the race jury saw this as an infringement of the rules and he was disqualified from the sprint, losing the victory.
Sprinters dismissed - 2010 Giro d'Italia
Hanging on to team cars up a steep climb is not strictly adhering to the rules - there can be little doubt about that. When Robert Hunter, Andrea Guardini, Dominique Rollin and Iban Velasco were all spotted taking a tow after the Passo del Tonale in the 2012 Giro, the race jury did not hesitate in sending the quartet home, their race over. It seemed an extreme reaction to a rule infringement that could easily have been settled by a fine and a time penalty.
Jody Cundy - Paralympic Games 2012
Great Britain track cyclist Jody Cundy fell foul of a commissaires' decision during the men's kilometre at the 2012 Paralympic Games in London. A mishap at the start gate saw Cundy' s wheel slip on the track, and he immediately put his hand up to call a false start, later saying that the start gate had not released correctly.
The commissaires, however, said that there was nothing wrong with the start gate and Cundy was not allowed a restart, his bid for gold in the event over. Some thought the commissaires' decision to be 'revenge' for an incident in the Olympic Games where GB sprinter Philip Hindes had called a false start during the Team Sprint, which later transpired to be not all it had first appeared.
Ted King - Tour de France 2013
American Ted King had suffered a separated shoulder on the opening stage of the 2013 Tour. As it was his debut in the race, he vowed to continue. During the team time trial on stage four, King lost touch with his Cannondale team-mates and continued solo.
King desperately attempted to keep within the time cut but missed it by seven seconds. The time cut rule can be interpreted with discretion by the race jury, but in this instance no mercy was given, and King was disqualified from the race as a result. King described his dismissal as 'heart-breaking'.
Thank you for reading 20 articles this month* Join now for unlimited access
Enjoy your first month for just £1 / $1 / €1
*Read 5 free articles per month without a subscription
Join now for unlimited access
Try first month for just £1 / $1 / €1