PROTOUR RIDERS SHOULD LEAD BY EXAMPLE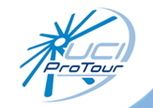 ON the face of it, it?s tempting to think that the UCI?s non-legal letter it?s urging all ProTour riders to sign to declare they have not taken banned drugs looks about as effective as a pair of chocolate handcuffs, but think again.
That the 6,000-page Operacion Puerto document has not been sifted through and judged in time for the start of the Tour de France because there?s not been enough time is totally unacceptable.
Anyone who hoped that today?s meeting between the UCI and the ProTour teams would yield a list of riders who would not be invited to the Tour de France has been disappointed and the possibility of another round of allegations and withdrawals on the eve of the London start remains.
Or the teams may simply censor themselves, as Discovery Channel and Caisse d?Epargne did prior to the Tour of Switzerland by quietly withdrawing Operacion Puerto-implicated Allan Davis and Ruben Plaza from their respective line-ups.
But the UCI have been quietly clever and this latest move should not be dismissed as irrelevant, unworkable and futile.
Mark Cavendish of T-Mobile and Sandy Casar of Francaise des Jeux have kicked off the signatures and it is hoped many more will follow.
The declaration is not legally binding but the UCI has applied pressure in a very public way. It?s a big step in flushing the cheats out into the open.
By publishing the names of those who have signed it on its website, the UCI knows the spotlight will fall on the teams and riders who have not signed. Any notable absentees from the list will be asked some awkward questions. ?Why don?t you support the anti-doping movement? Why can?t you declare yourself to be clean??
But surely that will mean everyone ? clean as well as dopers past and present ? will sign it, rendering the list useless immediately?
Not necessarily.
Anyone who signs the declaration lays himself open to questioning about his philosophy and practices.
The matter of asking riders about doping will no longer be a taboo that has to be sensitively skirted around ? and why should it be? If a rider is clean he should be bursting at the seams to say so.
It?s only the cheats who want others to dope, so they are in the club, up to their necks in it just as much as the next cheat.
As Cavendish said: ?It?s cool to be clean.?
It is depressing to hear Bob Stapleton say that T-Mobile have few friends in the peloton but slowly, surely, the tide will turn. Once the clean and reformed riders are in the majority, free of fear that previous misdemeanours will mean hefty sanctions, free of the scorn of doping team-mates and colleagues who still consider it tantamount to treason to speak about against drug-taking, the recovery can begin.
Check www.uci.ch and www.uciprotour.com for progress of The List.
If all 600-plus ProTour riders sign up immediately no one is going to be under any illusion that the doping problem is solved. Instead we?ll know that the cheats are only too happy to continue lying through their teeth. However, the pressure will have been cranked up a notch.
WHAT SHOULD ASO DO NOW?
* Deny any rider who does not sign the UCI?s list by July 3 a place in the Tour de France.
* The Tour is a private event. No one has a divine right to ride. ASO should exclude riders it does not wish to extend an invitation to, and invite those who wish to contest the decision to sue. Riders who are not clean will think twice before issuing legal proceedings.
Thank you for reading 10 articles this month* Join now for unlimited access
Enjoy your first month for just £1 / $1 / €1
*Read 5 free articles per month without a subscription
Join now for unlimited access
Try first month for just £1 / $1 / €1
Founded in 1891, Cycling Weekly and its team of expert journalists brings cyclists in-depth reviews, extensive coverage of both professional and domestic racing, as well as fitness advice and 'brew a cuppa and put your feet up' features. Cycling Weekly serves its audience across a range of platforms, from good old-fashioned print to online journalism, and video.