Rapha-Condor gets Sharp for 2010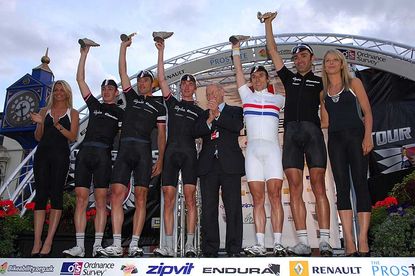 Electronics manufacturer Sharp has signed up as co-sponsor of the British Rapha-Condor outfit, and the squad will now be known as Rapha-Condor-Sharp.
"Our partnership with Rapha Condor marks a turning point for Sharp as a brand in the UK and we are thrilled to be supporting the huge potential growth of British professional cycling," said Sharp UK managing director Paul Molyneux.
"On behalf of Sharp, I'd like to wish the team the best of luck in achieving its goals for 2010 and beyond - we'll be right behind you!"
The new Rapha-Condor-Sharp team kit and team bike will be officially launched on January 28, 2010, at the team's new season presentation.
"You'll have to wait to find out what the kit will look like, but we're really happy," said Rapha chief executive Simon Mottram.
"When you see the new jersey it's like Sharp has always been there, that's what we were hoping for, a natural fit, and that what we think we've found in Sharp."
Sharp started its relationship with the team at the end of 2009, when the company partnered the squad's Prostate Cancer Charity efforts.
Thank you for reading 5 articles this month* Join now for unlimited access
Enjoy your first month for just £1 / $1 / €1
*Read 5 free articles per month without a subscription
Join now for unlimited access
Try first month for just £1 / $1 / €1