Reward offered after theft of expensive bike collection in Hertfordshire
Several of expensive Pinarello bikes were among the haul taken by thieves from a workshop in Baldock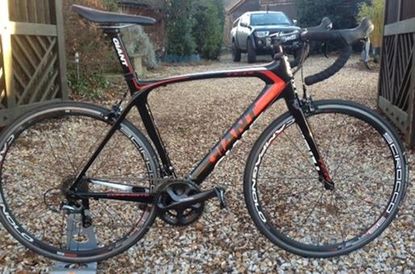 The owner of a collection of bikes stolen in Hertfordshire has offered a reward for information as to the whereabouts of the taken items.
Five expensive bikes and two pairs of wheels were taken from a workshop in on Royston Road, Baldock, between 1pm on March 31 and 8pm on April 1.
According to the Hertfordshire Mercury, the thieves reportedly lifted the rear of a vehicle blocking the entrance to the workshop and moved it out of the way, before forcing their way inside.
The items stolen include:
• A Cannondale C9 CAAD alloy frame cycle, with Shimano 105 gears, Shimano wheels and a Fizik Arione saddle
• A Pinarello Dogma 2 carbon frame cycle, with Campagnolo Super Record gears, Most carbon bars, Campagnolo Shamal wheels and a Selle Italia saddle
• A Giant TCR carbon frame cycle, with Deda bars and stem, Shimano Ultegra gears, Campagnolo Scirocco wheels and Giant saddle
• A Pinarello Quattro frame cycle, with Deda Zero bar and stem in silver/grey, Campagnolo Record gears Campagnolo Centaur brakes, Fulcrum Racing 3 wheels and Continental tyres. The bike had no saddle when it was taken
• A Whyte 809 hard tail mountain bike
• Zipp 808 Firecrest carbon wheels
• Rolf Prima Ares 6 wheels
Detective constable Stuart Bence, from the specialist investigation team, told the Mercury: "These bikes are extremely rare and highly distinctive so would be instantly recognisable to anyone who comes across them.
"I am especially appealing to members of the cycling community to keep an eye out for these bikes and to contact me straight away if they have any information about where they might be.
"I would also like to hear from anyone who may have seen a group of people in the area, or witnessed any suspicious activity around the time of the burglary.
"Any information, no matter how seemingly insignificant, could prove very useful to the investigation."
>>> Londoner recovers his stolen bike at East London market
Anyone with information should call DC Bence via the Hertfordshire Constabulary non-emergency number 101, quoting crime reference G3/15/158, or call Crimestoppers anonymously on 0800 555111.
Thank you for reading 20 articles this month* Join now for unlimited access
Enjoy your first month for just £1 / $1 / €1
*Read 5 free articles per month without a subscription
Join now for unlimited access
Try first month for just £1 / $1 / €1