Ride With... Lewes Wanderers Cycling Club
James West rides with the Lewes Wanderers Cycling Club, who have the South Downs at their disposal - Photos: Daniel Gould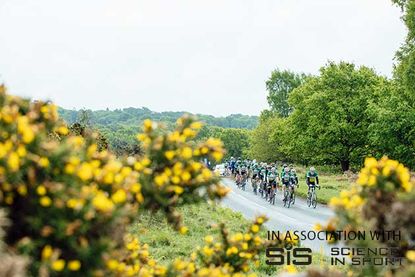 Members: 166
Formed: 1950
From: Lewes, East Sussex
Website: www.leweswanderers.co.uk | Facebook: www.facebook.com/leweswandererscc
This is the top of the Ashdown Forest, the highest point on today's ride. I love it up here," says Dominic Lowden, chairman of Lewes Wanderers CC.
On a clear Sunday, with the panoramic view at the summit, it's easy to see why. I can't help but feel that, for Lowden, the climb through the forest was an easy one: during the summer he guides Alpine rides for Vélo Vercors. And cycling prowess is in the genes: daughter Joscelin, a former LWCC member, rides for Storey Racing; and son Jamie was third in the 2016 National Hill-Climb Champs.
High-quality riders are somewhat of a club speciality. Lisa Davies is one of four club members who took part in the 2017 London-Edinburgh-London Audax: "I did it in 96 hours and two minutes with just 9.5 hours sleep over the four days." Another club member did it in three days.
>>> Find a cycling club near you
But it's not all about mammoth undertakings of 900+ miles. The club organise a series of evening 10s throughout the summer. Even there the calibre of rider can be impressive, as Mick Hannay discovered when he first took part eight years ago. "I walk in, and it's only Sean Yates sat there!"
Beyond time trials, LWCC organises a range of activities, as Brett Davies, membership secretary, points out. "If you want a way into the TT scene it's a really good way to do that, but equally if you just like riding your bike and are looking for a social ride there are lots of opportunities to do that too."
Darren Haynes organises one of LWCC's most well-known events — a series of three races in June known as the Lewes Crits. At the cafe stop, Haynes tells me just how widely known the event has become. "We've met people from New Zealand who see that we are Wanderers and ask about the crits!"
Today's route takes in a large part of that crit course, around the villages of Laughton and Ripe, and parts of Lewes's evening 10 route too. Almost all of the 49 miles is on quiet roads, through woodland and farmland that make up much of this area's landscape.
There's been a growth in female membership recently too, led in large part by Lisa Davies. "When I joined I didn't have anyone to ride with, so I try to help feed ladies into the club."
Emma Gearing, social secretary, is one of many who has benefitted from this new focus. "We've got a really good ladies contingency that caters for anyone from non-confident beginner to super speedy."
Rob Pelham, who owns Propel Bikes, Uckfield, has helped boost female numbers too. The shop's Saturday morning women's rides bring many new members into the club. "We work on getting people confident in a relaxed environment. A lot of people can be put off joining a club but a lot of the people here today started on the shop run — it's a good stepping stone for beginners."
Lewes also offers an increasing range of social activities too, as Pelham tells me. "We've always had a good social calendar, it keeps getting bigger. Ten years ago it was good, now it is even better!"
>>> Ride With… Inverness Cycling Club
Dan Street, who leads the weekly chaingangs that act as training for the crit series, perfectly sums up the club: "One of the things I love is that you've got everything there — TT, road racing, club runs and something like the chaingang. But it's all very inclusive and there is no sort of snobbery about it. Everyone is welcome and encouraged to try something."
Whatever your discipline or ability, Lewes Wanderers has a range of activities to suit your needs.
Club history
There had been a Lewes Wanderers Cycling Club before the Second World War but it closed down in 1938. When the war ended, some of the ex-Servicemen returning to their homes in East Sussex revived the Cyclists' Touring Club in Lewes.
As the section grew, many of the younger riders wanted to try racing. To do this, they formed the Lewes-Newhaven Road Club at a meeting in the Brewers Arms in Lewes on April 30, 1950. The old Lewes Wanderers assets (including several trophies) were found in a leather case with headed paper, lapel badges and a stopwatch.
A bank statement was traced which had a balance of 7s.6d. and on November 14, 1950, at another meeting in the Brewers Arms, it was decided to drop the Lewes-Newhaven RC name and the Lewes Wanderers Cycling Club was formed.
The club has, in recent years, seen members deliver a number of competitive results, both domestically and internationally. From 2011 to 2016, Peter Baker dominated Audax long-distance riding, having won the Latimer trophy for most miles ridden in a year in each of those years. In Auckland, at the World Masters Games 2017, Bob Evans secured a bronze medal in the cycling road race.
More recently, a number of promising riders have come through the ranks at Lewes Wanderers. Dan Gardner, Felix English and Jamie Lowden, are all previous club members in their youth that have gone on to full-time cycle racing. As has Joscelin Lowden, the current National Hill-Climb champion and a member of Storey Racing.
Main promotion
Every autumn, LWCC promotes the Grand Prix des Gentlemen Time Trial — an open team time trial with a difference. This popular event is run on the GS/838a course, a gently rolling circuit of 17.2 miles close to Lewes. It is a two-up team trial, with one veteran and one other rider in TTT formation. However, the veteran is paced round the course by their partner and must remain as second rider throughout, only permitted to overtake for the last 200 yards.
Member Q&A: Brett Davies, membership secretary
Cycling Weekly: How long have you been with the club?
Brett Davies: About five years. I started club running and was terrible — I used to drop off the back all the time, and then got into it from there.
CW: What's the club's TT scene like?
BD: It's one of the larger time trial clubs in Sussex and we run a series of 12 evening 10s throughout the year.
CW: What does your role involve?
BD: Originally I was brought on to handle renewals each season. I brought in the online membership, so that has simplified things.
CW: If someone was looking for a club to join, why should they join Lewes?
BD: We are good for bringing on people interested in racing, and if you want a way into the TT scene it's a really good way to do that. But equally everyone is very friendly — if you're looking for a social ride there is lots of opportunity to do that too.
>>> 11 reasons to join a cycling club
CW: What else does the club organise?
BD: We've done Majorca for a couple of years. We are off to Vercors in France later this year. They are open to anyone and normally have a good mix. We have stuff going on throughout the year.
Ride highlights: Lewes Wanderers CC
49 miles
1 Ashdown Forest
Sitting atop the High Weald Area of Outstanding Natural Beauty, the quiet roads and punchy climbs will be familiar with anyone who has undertaken a sportive in the area.
2 Lewes Castle
Not many rides take in a loop around a Norman castle's walls, but this ride did, complete with cobbled road, narrow lanes and passing through the castle keep.
3 Glyndebourne Hill
The wind turbine looming in the distance marks the summit of this 1km climb. Don't be deceived by the four per cent gradient, it gradually increases, maxing out at 11 per cent just before the summit.
Favourite cafe
Middle Farm Nestling at the foot of Firle Beacon, in the South Downs, Middle Farm is a 625-acre working family farm. The cafe offers a range of sustenance as well as a warm countryside welcome. As well as the farm itself, there is a Cider Barn, offering over 100 different ciders, including their own 'Pookhill Cider'. There is something for every member of the family to enjoy here. Middle Farm, West Firle, Lewes, BN8 6L
Thank you for reading 20 articles this month* Join now for unlimited access
Enjoy your first month for just £1 / $1 / €1
*Read 5 free articles per month without a subscription
Join now for unlimited access
Try first month for just £1 / $1 / €1