11 reasons to join a cycling club
Sometimes cycling on your own is great, but a lot of the time being part of a cycling club is the best way to go riding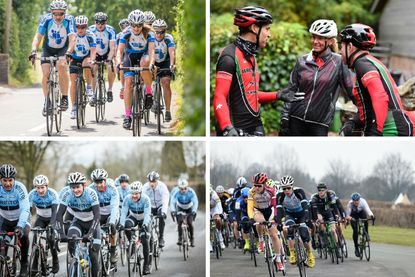 Get The Leadout Newsletter
The latest race content, interviews, features, reviews and expert buying guides, direct to your inbox!
Thank you for signing up to The Pick. You will receive a verification email shortly.
There was a problem. Please refresh the page and try again.
Wealth of knowledge
The accumulated years of know-how and expertise within any given cycling club can be huge.
Yes, you will always find people who are stuck in their ways - those with a 39-23 as their smallest gear for example - but generally the knowledge you can glean from existing riders is invaluable.
>>> Are you using your bike's gears efficiently?
From clothing to bikes, to skills like using clipless pedals for the first time and riding through-and-off, speak to your new clubmates and they'll likely be able to help you ride better and learn as you go.
What's more, if your mechanical skills are nearer to 'panic at a flat tyre' than 'fix anything with ease', there'll always be someone on hand to help.
Once you've been riding with the club for a bit longer you'll soon pick up the basics and become more self-sufficient, as you learn from those around you.
Find new routes
Another subject in which the combined wisdom of the group will prove its worth, especially if you have recently moved to a new area, is the geography of the region.
>>> Seven ways to find great new places to ride
Roads that may look good for a pedal on Google Maps could seem anything but when you're being repeatedly close-passed by lorries at 60mph, or that nice little lane you thought would get you home turns out to be passable only on foot or fat bike.
>>> Which type of winter cyclist are you?
Knowing the lanes, climbs, shortcuts and where the best cafes are will make every ride more enjoyable and ensure you're either never further from home than you planned nor back on your own doorstep much sooner than you wanted.
Camaraderie and new friendships
Unlike with friends from school or work, where you are thrown together by circumstance and have to make the best of it, joining a cycling club due to a specific interest in cycling means you've already got one big thing in common.
>>> Eight reasons why riding in a group is better than riding alone
Cycling can be a great leveller, too. People from all backgrounds, across a wide range of ages are all brought together by a love of cycling.
Meet people you might never have encountered before, then share the love of suffering on a tough ride, and you'll form friendships for life.
Shiny new club kit
Further to the friendships you will form is the sense of belonging that comes with lining out in the same kit as your clubmates, especially when you're new to a club.
Arriving at the meeting place on a weekend morning to see everyone dressed like you - although terrifying in other situations - is strangely satisfying when it comes to cycling.
That sense of belonging can be very strong and put a smile on the face of even the grumpiest of club members.
Expensive bikes and equipment aren't necessary
Budget needn't be a worry. Riding in a club will show you that the bling on display at most sportives is neither necessary nor particularly common on club rides.
Besides, when was the last time the person on the unnecessarily expensive WorldTour spec bike was the fastest climber on a sportive? Chances are you rinsed past them with ease.
Nowadays, you can pick up a well specced and highly functional cheap road bike that will see you right for years to come.
Ride a cheap bike regularly and no matter the weight saving of your once-a-fortnight-clubmate's new carbon bar end plugs or the expected wattage gain of their socks, you'll be waiting for them at the top of every climb.
Improve your Strava segment times
Drafting a car or a teenager on a moped is both dangerous and essentially cheating.
However, a speedy through and off session on your favourite Strava segment is a different story altogether.
You might still not get the KOM but you'll definitely improve your segment times with a bit of club assistance.
Train better
When cycling, there can always be a temptation to stay in your comfort zone. Get out on the bike with a faster group on a club run and you'll soon find you can push yourself much further than you thought.
Obviously don't overdo it or get dropped in an area you're unfamiliar with, but pushing yourself to hold the wheel of a faster rider can be a great way to further your own training and abilities.
Get into racing
Once you've improved your general riding and training, the next step for many club riders is to get into racing.
This can be an intimidating prospect, but glean as much advice as you can from experienced racers and you'll already be one step ahead on the start line.
>>> Ride and race smarter: improve skills to stay safe in the bunch
What's more, riding in a paceline or leading out a teammate to victory can be just as satisfying as winning for yourself, especially if the parcours you're racing on doesn't suit you anyway.
Motivation
Sometimes, riding on your own is bliss. Go where you want, as fast (or slow) as you want, for as long as you want. But the inverse of this is wondering if you can be bothered to go out at all.
Commit to meeting a teammate or to attending the regular club ride and you'll be far more likely to drag yourself along.
Ten minutes in to the ride when you're having a good chat with a friend, that morning's lack of motivation will be a distant memory.
See the world and ride in the tyre tracks of the pros
Much with cycling in general, riding abroad can obviously be done without joining a club first.
But ascending Mont Ventoux around the time of the Tour de France or taking on the Paris-Roubaix Challenge sportive will be a lot more fun with friends.
Further, the logistics and costs will be more favourable for a group. Once your ride is done you can make a weekend of it by cheering on the pros and enjoying the local food/wine/beer/fruit juice.
It's not just about the cycling
At the very least there are the cafe stops during the rides, but beyond that many clubs do a lot of off the bike socialising.
Club nights in the local pub and an annual awards dinner are just some of the times you get to see your cycling friends wearing something other than lycra.
Thank you for reading 20 articles this month* Join now for unlimited access
Enjoy your first month for just £1 / $1 / €1
*Read 5 free articles per month without a subscription
Join now for unlimited access
Try first month for just £1 / $1 / €1
Get The Leadout Newsletter
The latest race content, interviews, features, reviews and expert buying guides, direct to your inbox!
Jack Elton-Walters hails from the Isle of Wight, and would be quick to tell anyone that it's his favourite place to ride. He has covered a varied range of topics for Cycling Weekly, producing articles focusing on tech, professional racing and cycling culture. He moved on to work for Cyclist Magazine in 2017 where he stayed for four years until going freelance. He now returns to Cycling Weekly from time-to-time to cover racing, review cycling gear and write longer features for print and online.