Robin Williams's rare bike collection goes to auction
Late actor's private bicycle collection is put up for auction in aid of charity, includes rare team, one-off and limited edition road bikes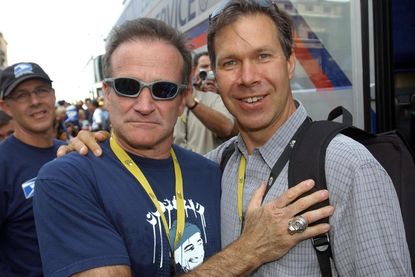 (Image credit: Graham Watson)
Robin Williams was not only a successful and well-loved comedian and actor, he was also a huge fan of cycling and amassed a collection of over 100 bikes. He was an avid cyclist and race fan, appearing at the Tour de France as a spectator and to support the riders.
Williams died in 2014, and his family has now put 87 bikes up for auction to raise funds for two of Williams's favoured charities, the Challenged Athletes Foundation and Christopher & Dana Reeve Foundation.
The bikes up for auction include some incredibly rare team issue, special edition and custom-made models – plus some eclectic inclusions, such as a unicycle and a Velotron indoor training bike.
There are many top-of-the-range road bikes, including several from teams associated with 7-Eleven and BMC Racing team founder Jim Ochowicz, the latter of whom was a personal friend of Williams.
The bikes are being auctioned via Paddle 8, which includes an online catalogue of the models being sold.
There are road machines from Pinarello, Look, Specialized, Casati, Trek, Orbea, Zipp, LeMond, Cervelo, De Rosa, Litespeed, Giant, Colnago, Merlin, Bianchi, Kestrel, Cooper, Calfee, Taylor, BMC, Cervelo, Fondriest, Pegoretti, Cannondale, Independent Fabrication, Masi, Merckx, Lynskey, Serotta, Delta 7 and Ritchey.
>>> Sir Bradley Wiggins discusses his classic bike collection
There are also several mountain bikes, touring bikes and cruisers.
Many of the machines are pictured complete with water bottle cages and saddle packs, showing that these machines were not just collected and cherished by Williams, but ridden too. Several of the machines have obviously been adapted to Williams's preferred riding position, with a relatively high handlebar height.
Dario Pegoretti was a favourite of Williams, and there are several models on offer from the Italian builder. One custom-made model, a Love #3, includes the following cryptic wording on the frame: "Too bad I don't work for free, I would love to contribute" and "And have someone check your ideas before you go online with the work!".
The lowest current price is for a Fuji track bike at $650, going all the way up to a rare Trek Madone Discovery Channel team bike with bids starting at $10,000.
Thank you for reading 20 articles this month* Join now for unlimited access
Enjoy your first month for just £1 / $1 / €1
*Read 5 free articles per month without a subscription
Join now for unlimited access
Try first month for just £1 / $1 / €1