Simon Yates 'embarrassed and ashamed' over anti-doping rule violation
British rider Simon Yates issues statement in wake of the UCI handing him a four-month ban for Terbutaline positive at Paris-Nice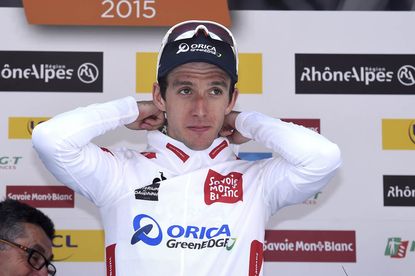 (Image credit: Watson)
Simon Yates has said that he is 'embarrassed and ashamed' for the situation surrounding his positive test for Terbutaline during Paris-Nice in March this year. He apologised to the cycling world for 'casting our sport in a negative light' and said that the past few months have been 'long and extremely painful' as he waited for a decision on the case.
Yates was handed a reduced four-month suspension from competition by the UCI on Friday after the organisation concluded that it was a 'non-intentional' violation. His Orica-GreenEdge team have said they are responsible for the positive after failing to file a Therapeutic Use Exemption (TUE) certificate for his use of the asthma drug.
>>> Simon Yates handed four-month ban by UCI for anti-doping rule violation
In a statement issued on behalf of Yates after the UCI's decision was published, the 23-year-old from Bury said:
"The last few months have been very long and extremely painful, not only for me but for my family and friends. I received a notification from the UCI in mid-April that they had discovered the prohibited substance terbutaline in my control test sample from Paris-Nice. Unbeknown to me, this substance was in the medication prescribed to treat my asthma during the race, asthma being a condition I was diagnosed with as a child and have suffered with since then.
"Whilst the medication prescribed was clearly stated on the doping control test form by my team doctor, he made an administrative error by failing to apply for the necessary TUE for the use of this medication.
>>> Orica-GreenEdge take responsibility for Simon Yates' positive test
"Therefore I regrettably have to accept the punishment issued by the UCI. Even though I was not aware of taking any banned substance at the time of the test or until I was notified of the adverse analytical finding, ultimately the responsibility is on the athlete to know exactly what they are taking and what they are putting into their bodies.
"I have dedicated the last thirteen years of my life to the sport of cycling. I have worked incredibly hard in this period and am proud of all my success to date. Unfortunately as a result of an honest mistake of my team doctor, whom I trusted wholeheartedly, there will now be a doubt cast over my name, my previous results and any future glories.
"I would like to apologise to my colleagues for once again casting our sport in a negative light. I am very embarrassed and ashamed of this whole situation but I am determined to move forward thus will not be making any further comment publicly about the case."
Yates's ban will expire on July 11, meaning that he will not be able to compete in this year's Tour de France (July 2-24). He will return to racing at the Tour of Poland (July 12-18).
Thank you for reading 20 articles this month* Join now for unlimited access
Enjoy your first month for just £1 / $1 / €1
*Read 5 free articles per month without a subscription
Join now for unlimited access
Try first month for just £1 / $1 / €1