Sir Bradley Wiggins says Lance Armstrong was 'perfect' Tour de France winner in new book
The British Tour winner says Armstrong was the 'archetypal' racer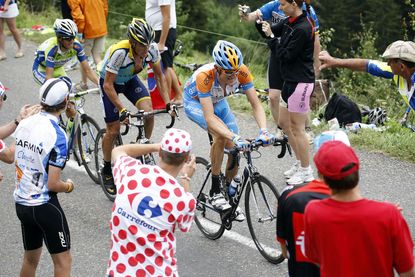 (Image credit: Yuzuru SUNADA)
Lance Armstrong was the "perfect" Tour de France winner, says Sir Bradley Wiggins in his new book.
The first ever British Tour winner Wiggins says that disgraced American Armstrong was "precisely the sort of winner" the race founder had pictured, the Sunday Times reports.
Armstrong was stripped of all seven of his Tour de France victories and has publicly admitted to doping to win each of those races.
>>> Floyd Landis says cycling is not clean in post-Armstrong era
In his new book Icons, Wiggins writes: "Legend has it that Henri Desgrange, the father of the Tour, envisaged a 'perfect winner.'
"The ideal Tour de France would have one finisher, a type of super-athlete who would not only defeat his opponents but also whatever nature might throw at him."
Wiggins writes that Armstrong was "the archetypal Tour de France cyclist and he was precisely the sort of winner Desgrange had in mind 120 years ago."
In his new book, due to be published on Thursday, Wiggins reveals key pieces from his personal collection of cycling memorabilia and explores some of cycling's greatest and most controversial figures.
The 38-year-old also writes about his first meeting with Armstrong in a bike race, when the Texan rode alongside him and spoke to the Brit.
Wiggins said: "I felt 10ft tall because…well, because he was Lance Armstrong.
"Am I allowed to say that, or does it make me some sort of cycling heretic?"
His Armstrong comments echo a recent radio interview, when Wiggins said Armstrong is iconic "whether people like it or not."
In that interview, Wiggins revealed how he had looked up to Armstrong as a young rider.
In the book, Wiggins also says he and his wife Cath have struggled with fame and recent media coverage.
Wiggins was at the centre of a media storm in recent years after hackers revealed the Brit had obtained a therapeutic use exemption for a powerful corticosteroid before he raced in Grand Tours.
A parliamentary report published earlier this year said that Team Sky "crossed an ethical line" over Wiggins' use of triamcinolone, but Sky refuted the findings.
Thank you for reading 20 articles this month* Join now for unlimited access
Enjoy your first month for just £1 / $1 / €1
*Read 5 free articles per month without a subscription
Join now for unlimited access
Try first month for just £1 / $1 / €1