Sir Chris Hoy calls for end to 'us and them' mentality between cyclists and drivers
The six-time Olympic gold medallist is encouraging drivers and cyclists to do their bit for road safety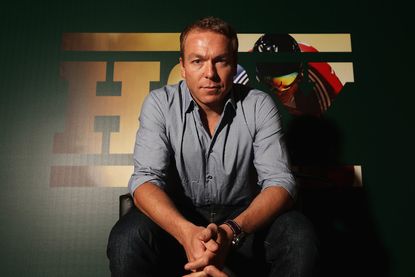 (Image credit: Getty Images)
Sir Chris Hoy said drivers and cyclists need to put themselves in each other's shoes to improve road safety.
The six-time Olympic and 11-time world champion called for the end to "them and us" language used when describing road users.
Speaking at the Cheltenham Literature Festival, the former track star said more communication is needed including thumbs up and more thanking.
>>>'Do cyclists have to ride on the road?' – you asked Google, and we've got the answer
The 42-year-old said: "We're are all someone's son, daughter, mother, father, sister brother, we're people and when people's lives are at risk it is time to stop having 'them and us'.
"Most cyclists drive and vice versa. You have to try and put yourself in the shoes of the other person."
The Olympic hero was speaking on Wednesday to promote his new book, How to Ride a Bike.
Sir Chris retired from competitive cycling in 2013 and is now a racing driver, competing in the 2016 Le Mans 24 Hours race.
Speaking at the literary festival, Sir Chris added: "If you are cycling and thinking 'Well, they can sit behind me for half a mile on this single lane road' ... it's not about saying you should get out of the way and let them through, it's about, when they do come past, just give them the thumbs-up and you can see the road's clear, give them a wave through, say thanks and that little bit of communication helps.
"Equally, when you are a motorist, to understand what it feels like to have a wing mirror buzz past your ear is utterly terrifying."
He also revealed that he recently crashed while trying to wheelie an E-bike outside his house.
Sir Chris said his friend and track cyclist Philip Hindes visited with his new E-bike.
Taking it out on his front driveway, Sir Chris popped up the front end and was aware of the extra power but when he tried to grab the rear brake he found they were set up European style.
His landed up on his back, hit his coccyx, the back of his head and winded himself.
Sir Chris said his wife is threatening to release the CCTV footage from the crash.
Thank you for reading 5 articles this month* Join now for unlimited access
Enjoy your first month for just £1 / $1 / €1
*Read 5 free articles per month without a subscription
Join now for unlimited access
Try first month for just £1 / $1 / €1