Stapleton cools Cavendish-Greipel fire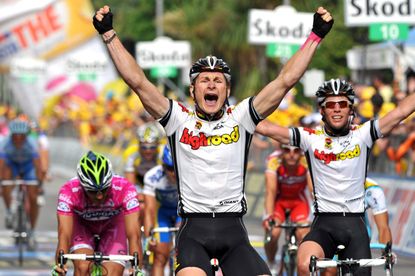 HTC-Columbia Manager Bob Stapleton has warned his two top sprinters, Mark Cavendish and André Greipel, to keep their quarrels private.
Brit Cavendish lashed out at his German team-mate in an interview with The Guardian earlier this week. "There's no chance of Greipel winning a Monument," he said. "There's no chance whatsoever that he's coming to a bike race that I'm in."
"They are competitive guys and should focus their attentions on the bike," explained Stapleton before Paris-Roubaix this morning. "They should handle their issues personally."
Cavendish and Greipel rarely race together, he last time was at the 2008 Giro d'Italia when Cavendish made his break through as a Grand Tour sprinter. He won two sprints and helped Greipel win the stage to Locarno, Switzerland.
Stapleton said that the two will not likely race together soon. He asked Cavendish to skip the Giro d'Italia to race the Tour of California to promote the team's US sponsors, which will allow Greipel to focus on the Giro d'Italia.
"It doesn't make sense for use to put two top sprinters in the same races. If they are together then I am sure they will work together, but I think it is unlikely because most of the time we are racing multiple races and it makes sense to go try and win those races.
"I think we are a big enough team to support multiple races and multiple riders. If we can't do that then the management hasn't done a very good job.
"[Greipel] will have very good team support at the Giro, a race he will do extremely well at. He had good team support at the Vuelta [a España last year], where he did very well."
Cavendish's contract runs through 2011, but Greipel's expires at the end of this year. Stapleton said that he would like to keep the 27-year-old, who has been with the team since 2006.
"André has been a guy we've had for a few year and he's grown well in the programme. We think very highly of him."
Their feud began in 2007 at the first stage of the Etoile de Bessèges in France. Cavendish finished second and Greipel seventh, but afterwards they had an argument about the lead-out.
Thank you for reading 20 articles this month* Join now for unlimited access
Enjoy your first month for just £1 / $1 / €1
*Read 5 free articles per month without a subscription
Join now for unlimited access
Try first month for just £1 / $1 / €1