Strava users plagued by follow requests from spam accounts
Strava says that it is doing all it can to combat the issue of spam bots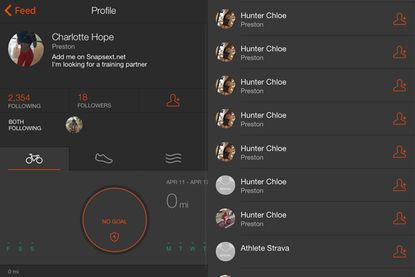 If you've been followed by a Chloe Hunter or Charlotte Hope on Strava over the last few days, then you're not alone, as many users have found themselves bombarded with follow requests from spam accounts.
>>> The nine types of ride we all upload to Strava
The accounts appear to be based in either London or Preston, saying that they are "looking for a cycling training partner", and encouraging other users to click through to what looks like a very dodgy website.
Users of the site have taken to Twitter and Facebook (ironically two social networks where spam accounts are a persistent problem) to complain about the issue.
In response Gareth Nettleton, Strava's VP for marketing, said that the company was doing all it could to deal with the issue.
"We're aware of some of our members receiving follow requests from non-human accounts and are really sorry for the inconvenience this is causing," he said.
>>> Top 12 funniest Strava segment names
"Like any social network, unfortunately we are not immune to this type of activity. However, our team is working around the clock both to solve the immediate issue of the accounts and also minimise the impact that the follow notifications have on members' notification feeds."
Thank you for reading 20 articles this month* Join now for unlimited access
Enjoy your first month for just £1 / $1 / €1
*Read 5 free articles per month without a subscription
Join now for unlimited access
Try first month for just £1 / $1 / €1