Survey reveals that 1.5 million drivers have never had an eye test
Eye tests should be compulsory for all drivers, says road safety charity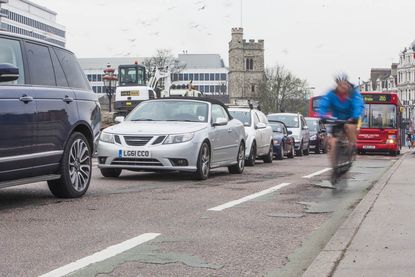 (Image credit: Chris Catchpole)
Get The Leadout Newsletter
The latest race content, interviews, features, reviews and expert buying guides, direct to your inbox!
Thank you for signing up to The Pick. You will receive a verification email shortly.
There was a problem. Please refresh the page and try again.
Eye tests should be compulsory for all drivers, according to road safety charity Brake, as survey results reveal 1.5 million drivers (4%) have never had their eyes tested.
The survey of 1000 drivers, by Specsavers, RSA Insurance and Brake, reveals one in five drivers put off visiting the optician despite warning signs, while 25% of drivers haven't had their eyesight checked in more than two years. Brake says 40% of vision can be lost before a difference is noticed.
Currently before the driving test participants are asked to read a number plate from 20m away, but this doesn't test visual field or contrast sensitivity, which are needed for safe driving. Brake estimates 2,900 casualties are caused each year by poor driver vision.
Julie Townsend, deputy chief executive of Brake, said: "Making sure your vision is up to scratch is crucial to safe driving, and though it may seem there are plenty of excuses to put off going to the opticians, none is good enough when it comes to putting people's lives at risk.
"If you drive, it's not just your own health you are jeopardising by neglecting your eyesight, but the lives of those around you. That's why it's vital for drivers to get their eyes professionally checked at least every two years - eyesight can deteriorate rapidly without you noticing."
Mark Christer, Managing Director of Personal Insurance at RSA, said: "We want far more rigorous checks that drivers' eyesight meets the minimum standards. The UK's 'number-plate test' is a relic of the 1930s and it's no wonder so many other EU countries have introduced more modern testing. It is time we did too."
In February 2009 tipper truck driver Joao Lopes, not wearing his glasses, pulled away from a pedestrian crossing in Notting Hill, killing cyclist Eilidh Cairns. His licence was temporarily revoked, given back on the condition he wore his glasses. However in 2011, driving a 32 ton lorry for a different employer, he killed again while not wearing his glasses, hitting a woman he failed to see walking on a pedestrian crossing.
In the UK 74% of people wear glasses or contact lenses. Brake is calling for a requirement from government that drivers prove a professional recent eye test when applying for a provisional licence, and at least every ten years after that.
Drivers over 70 years old must declare that their eyesight meets minimum legal standards when renewing their licence, but do not need to provide evidence of this.
More information about the Sharpen Up campaign can be found the Brake website.
Junction featuring segregated lanes for cycles and cars will be first of its kind in Britain's capital city
Cycling minister Robert Goodwill will close loopholes which currently allow potentially dangerous lorries to use city streets
Thank you for reading 20 articles this month* Join now for unlimited access
Enjoy your first month for just £1 / $1 / €1
*Read 5 free articles per month without a subscription
Join now for unlimited access
Try first month for just £1 / $1 / €1
Get The Leadout Newsletter
The latest race content, interviews, features, reviews and expert buying guides, direct to your inbox!