T-MOBILE WORRIED ABOUT THE FUTURE AFTER SINKEWITZ POSITIVE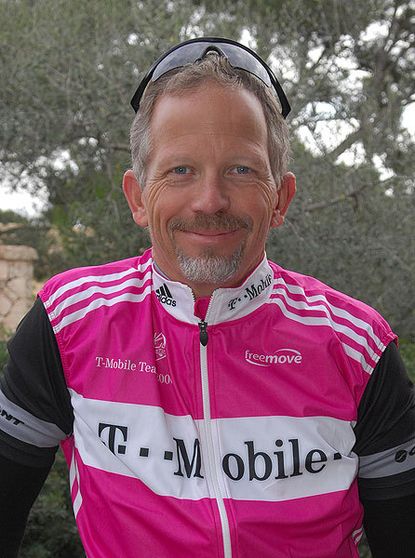 The T-mobile riders and staff were shocked and stunned at the finish of the stage in Marseille after hearing about Patrik Sinkewitz?s positive test for testosterone.
After a long day in the saddle under a scorching sun, the riders were in no mood to talk but team manager Bob Stapleton (pictured) faced the media. He admitted the positive test, German television?s decision to suspend their race coverage of the Tour and the subsequent media pressure in Germany, could affect the long-term future of the team.
?I think it?s fair behaviour if T-Mobile decide to reconsider their involvement,? Stapleton said, confirming the news that the team will make a decision following a high-level meeting after the Tour de France.
?I think it?s right to step back a little and consider the benefits and consider the negatives and ask if this team and this sport is going in the right direction. I?d say yes it is and I think the sponsor will view it similarly but I think it?s a fair thing to review.?
Stapleton revealed that the six riders left in the Tour de France were all angry about the Sinkewitz positive.
?Up until today all the challenges we?ve faced in this Tour de France have made us stronger but this is extremely difficult for the riders to bear,? he said.
?The riders believe their livelihoods are at stake and think all the personal commitments they made to the team have gone to nought. They?re devastated because they?ve put a lot into this.?
?We ask more of them than most other athletes. They signed the code of conduct that says if we think they?re caught screwing around we can fire them. Not too many athletes enter into an agreement like that. They?ve got my full support and I think they feel absolutely betrayed.?
Stapleton said the team had not yet spoken to Sinkewitz because on Wednesday morning he underwent surgery on the facial injuries he suffered in a crash with a spectator after Sunday?s stage. The team have already suspended him and if his positive is confirmed and he is banned, Sinkewitz will have to hand over a year?s salary of approximately £300,000 under the UCI?s ?Rider?s agreement for a new cycling?.
Thank you for reading 20 articles this month* Join now for unlimited access
Enjoy your first month for just £1 / $1 / €1
*Read 5 free articles per month without a subscription
Join now for unlimited access
Try first month for just £1 / $1 / €1