TEAM COLUMBIA'S REACTIONS TO CAVENDISH'S WIN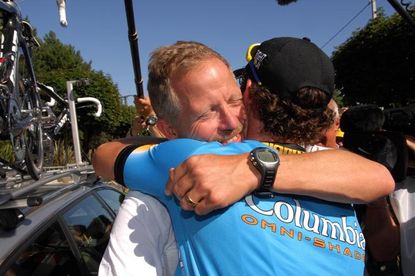 Riders and staff from Team Columbia couldn?t hide their joy at Mark Cavendish?s stage win yesterday. Cycling Weekly spoke to team manager Allan Peiper, team owner Bob Stapleton and Columbia?s most experienced rider George Hincapie for their reaction to Cavendish?s victory.
Allan Peiper, Columbia team manager
?Three days ago, the peloton botched the chase of the break, but that didn?t happen yesterday. Everything was under control.?
?It was evident that Gerolsteiner wanted to keep the jersey today. They don?t have a sponsor for next year, so it?s important for them to keep the jersey. So we already had an ally. Crédit Agricole had everything to gain by riding on the front as well.?
?We made sure that it was only a small group that went away, so the power was in our hands. With five kilometres to go they still had 20 seconds, but there was no panic, because you could see the speed of the peloton. There was also a false flat from kilometre four to three, so obviously the leaders were going to lose a little ground there.?
?I?m very happy with Cav. We?ve told him all along that this year, 2008, was going to be the year of confirmation for him. He?s a world champion on the track, he?s won two stages in the Giro, a stage at Romandy, and now a stage in the Tour ? he?s already at the top of the sport.?
George Hincapie, Columbia rider
?I flatted with 10 kilometres to go, and it took me a while to get back and get into the rotation. We had eight men on the front, apart from when I flatted. The guys were so strong, and it was a fast finish.?
?Cav finished it off for us so we?re all really excited.?
?He?s the best sprinter in the world at the moment. If he?s got a straight run at the finish line, nobody can come past him.?
?Vogondy could have stayed away, but we were going so fast at the end, it was always going to be difficult for him. We weren?t really chasing him, we were chasing the win.?
?Cav doesn?t need much help. He?s confident, super-laid back and a real pleasure to work with.?
?We?ve got a lot of respect in the peloton. We?re very happy with the way it went.?
Cavendish is congratulated by team boss Bob Stapleton after stage five
Bob Stapleton, Team Columbia owner
?I?m very proud of this team. It?s the youngest team on the Tour, and we?ve got the youngest rider on the Tour, Gerald Ciolek, who you saw doing a great job for Mark. I couldn't be happier and I?m proud of every member of the team.?
?We?ve had four or five top five finishes already at the Tour, but we really wanted the win. We?d trade all the seconds and fourths for this.?
?But they also did it in a good way. They did it together, and I?m especially proud of Ciolek. He looks after Mark in the last 500 metres, and that?s the kind of spirit we want to see. Most of our successes have come from the riders working really well together.?
?I came into this sport wanting to do good things, and be a positive force for change. But what I enjoy most is seeing these guys working as a team. And I enjoy the successes, in big races and smaller races. ?
?And today is a great reward for all the effort everybody has put forward.?
Swipe to scroll horizontally
TOUR DE FRANCE 2008: STAGE REPORTS
Stage five: Cavendish takes first Tour win
Stage four: Schumacher wins TT and takes race lead
Stage three: Dumoulin wins stage from break
Stage two: Hushovd wins chaotic sprint
Stage one: Valverde wins
Swipe to scroll horizontally
TOUR DE FRANCE 2008: NEWS
Cavendish talks about his Tour stage win
Tour comment: Why Evans should be happy [stage four]
Millar: Still aiming for Tour yellow jersey [stage 4]
Who is Romain Feillu?
Cavendish disappointed with stage two result
Millar too close to Tour yellow jersey
Stage 2 preview: A sprint finish for Cavendish?
Millar happy after gains precious seconds in Plumelec
Valverde delighted with opening Tour stage win
Comment: Is Valverde's win a good thing for the Tour?
Swipe to scroll horizontally
TOUR DE FRANCE 2008: PHOTOS
Swipe to scroll horizontally
TOUR DE FRANCE 2008: GUIDE
Tour de France 2008 homepage>>
News and features>>
All the riders (start list, list of abandons)>>
Tour 2008: Day by day summary
Route & stages>>
Teams and riders>>
About the Tour>>
Thank you for reading 10 articles this month* Join now for unlimited access
Enjoy your first month for just £1 / $1 / €1
*Read 5 free articles per month without a subscription
Join now for unlimited access
Try first month for just £1 / $1 / €1
Edward Pickering is a writer and journalist, editor of Pro Cycling and previous deputy editor of Cycle Sport. As well as contributing to Cycling Weekly, he has also written for the likes of the New York Times. His book, The Race Against Time, saw him shortlisted for Best New Writer at the British Sports Book Awards. A self-confessed 'fair weather cyclist', Pickering also enjoys running.