The 12 greatest moments of Fabian Cancellara's career (videos)
Cancellara has confirmed that the 2016 season will be his last, so here are the best moments from his racing career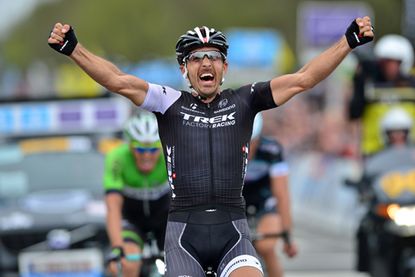 (Image credit: Graham Watson)
Fabian Cancellara, the Swiss rider known as Spartacus, has announced that he will retire from cycling at the end of the 2016 season.
This will draw to a close a very successful and highly decorated career that includes three Paris-Roubiax wins, three victories at the Tour of Flanders, four World Championships Time Trial titles and the most days in the Tour de France's yellow jersey without taking the overall win.
To celebrate Cancellara's final year in the peloton, here are his best moments so far.
Storms onto the scene with prologue victory, Tour de France 2004
Spartacus propelled himself to the top of cycling with victory in the prologue at the 2004 Tour de France. Beating a certain Texan by two seconds.
The win gave Cancellara his first of 29 days in the Tour's yellow jersey.
Audacity saves yellow, Tour de France 2007
https://www.youtube.com/watch?v=BJNLMYpr2TM
This looked like one for the sprinters, but the Swiss rider wanted to hold onto his yellow jersey. He made sure this was the case in emphatic fashion, launching an audacious attack and holding off the chasers. Chapeau.
Wins a stage race, Tirreno-Adriatico 2008
Better know for prologues, full TTs and Classics wins, Cancellara was victorious in the 2008 Tirreno-Adriatico stage race.
Descending masterclass, Tour de France 2009
https://www.youtube.com/watch?v=j_wEG2RNMJc
An adept bicycle handler, Fabian showed his descending prowess by overtaking cars and catching back up with the lead group after a mechanical at the 2009 Tour.
>>> Five of the best road cycling descent videos
In a league of his own, Worlds TT 2009
https://www.youtube.com/watch?v=IuT_72SdXa4
Arguably the best of his four World Championships Time Trial wins, Cancellara was head and shoulders above the rest on home soil in 2009.
Three days later he also came fifth in the road race.
Long range attack, Paris-Roubaix 2010
https://youtu.be/j7xjsPqHg3o?t=2m15s
Defending champion Tom Boonen had little to say for himself when Cancellara went full gas to ride away from the Belgian and everyone else besides.
This win came a week after he took victory at the Tour of Flanders; a double that he repeated in 2013.
Invaluable teammate, Tour de France 2010
Heading into the 2010 Tour with a chance of a podium finish (he finished second and was later awarded the victory), Andy Schleck can thank Cancellara's capabilities on the cobbles for keeping him out of trouble and in contention on stage three.
>>> What Andy Schleck did next
His brother Frank was less fornunate, crashing out with a broken collarbone.
Dominant performance, E3 Prijs Vlaanderen – Harelbeke 2011
https://youtu.be/SHUWTwPu_LA?t=3m23s
Watch Cancellara just ride away from everyone.
Victory at Strade Bianche 2012
https://www.youtube.com/watch?v=qnJ25v2uugs
Another dominant display, this time over the white roads of Tuscany, showing that he can win on a variety of road surfaces and in a range of profiles.
Monsieur Prologue does it again, Tour de France 2012
https://www.youtube.com/watch?v=DnKr_jmjl_g
When Cancellara won the prologue at the 2012 Tour de France, he probably wasn't as happy as Sir Bradley Wiggins, who came in second to Fab but ahead of his GC rivals.
In virtual yellow without having to defend it, perfect for the British rider's ultimately successful overall ambitions.
Cancellara held the maillot jaune until the summit finish on stage seven, adding to his impressive tally.
Tense finish, Paris-Roubaix 2013
https://www.youtube.com/watch?v=fNyaWdWXx4M
We've seen him smash away on his own to take wins in Monuments, but this victory was different.
Sep Vanmarcke held on for dear life to the favourite's wheel and rode with him to the famous Roubaix velodrome.
The two riders played a bit of cat and mouse throughout the exciting finale, but there could only be one winner.
Wins in unfamiliar fashion, Tour of Flanders 2014
https://www.youtube.com/watch?v=Fm5l6juQIcA
A different type of victory again, Cancellara bided his time in the lead group of four before he showed just how good his sprint is.
Finally, we shouldn't forget about his other busniess venture, men's fragrance...
You can let us know if we've missed any other standout moments in the comments below.
Thank you for reading 20 articles this month* Join now for unlimited access
Enjoy your first month for just £1 / $1 / €1
*Read 5 free articles per month without a subscription
Join now for unlimited access
Try first month for just £1 / $1 / €1