The 12 most viewed cycling videos of 2015
If you type the words 'cycling' or 'cyclist' into YouTube, you get a whole load of great videos. Here are the 12 most viewed this year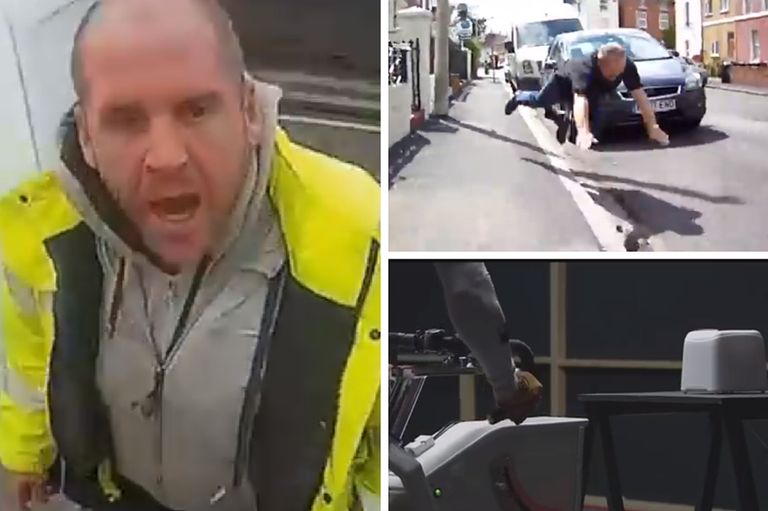 10. White Van Man Runs Over & Assaults Cyclist (Bad Language)
8. Instant Karma For Road Rage Against Cyclist (Bad Language)
3. Cyclist vs. Toaster
12. Cyclist Extreme close call vs. Semi Trailer Truck
5. Diver cuts off cyclist and then goes full road rage
The last road rage video on the list comes from America. It gets shamefully theatrical towards the end and is thankfully on that note the last road rage item on the list. Moving on.
4. People Are Awesome (Cycling Edition)
Would you feel like we were cheating if we included a compilation such as this? Of course you wouldn't. At least we can all appreciate some of the best moments on a bike with this rather than people screaming at each other.
2. Kangaroo hoard during bike ride
'Extreme close call' is an understatement, this gentleman has taken a very substantial knock and his screams of pain are slightly unnerving. Obviously his friend wasn't too fussed. He still had time to make sure his bike was placed safely to the side of the road.
Therefore we've simplified it for ourselves letting YouTube do all the legwork. So, we've put together a list of the most viewed videos from 2015 that appeared at the top of the pile when typing either 'cycling' or 'cyclist' in the search bar.
It's all got a bit out of hand really, even in 2015 the war between drivers and cyclists continued. Can't we all just be friends? This is a typical road rage incident, they're becoming too common on the roads today and this isn't the only one that made the list.
https://www.youtube.com/watch?v=iV9_i9MEnMg
Views: 408,385
Did you know that Kangaroos are actually nice animals and probably won't challenge you to a boxing match? Neither did we. Living in the UK however, we think you'll be fine.
Cycling Weekly brings you the best cycling videos week in week out. Of these we could throw together a 'Best Ten Ever Videos!' however when it comes to discussing the 'best' video, we'd all just do better agreeing to disagree.
https://www.youtube.com/watch?v=k1rnwc1AtZ4
Views: 1,844,695
https://www.youtube.com/watch?v=M7tCtx_nN7g
Views: 5,369,468
https://www.youtube.com/watch?v=1hVXhg8zvkI
Views: 371,283
More road rage and more bad language so beware. This was big news a while back and found itself doing the rounds on various websites but it's well worth another watch. Skip to 3-20 in for comedy gold.
7. Guy hits side of the bus
Perhaps riding a fixed gear around the city centre at that speed and then jumping a red light is only bound to end one way. He appears to try his best to stop his back wheel but was it wise of him, probably not.
6. Total Leg Day
Two rather large men going to the gym, lift weight, do squats and then congratulate each other afterwards isn't really out of character in 2015. This video however has Robert Förstemann, the very reputable German track sprinter, flashing his chest.
https://www.youtube.com/watch?v=YinWeRwRsf8
Views: 1,456,981
https://www.youtube.com/watch?v=S4O5voOCqAQ
Views: 2,019,274
This could be the crash to see out all others. Okay, maybe it won't go down in history with famous crashes of the Tour de France but he will still be sore in the morning.
1. Samsung – Cycling – We Are Greater Than I
https://www.youtube.com/watch?v=9BrWuJWE104
Views: 774,359
You won't be able to turn your head away from this, don't doubt our judgment you're going to love it. It also features Robert Förstemann, again, and his huge 74cm circumference legs are on display.
https://www.youtube.com/watch?v=zjmf-fjrnAw
Views: 396,612
https://www.youtube.com/watch?v=aEjfDRvnFp4
Views: 386,141
9. Full video Anthony's crash with aftermath
https://www.youtube.com/watch?v=5MY5LmRXoeM
Views: 2,830,582
11. Cycling Girl Strips (Rude Gesture)
https://www.youtube.com/watch?v=o2Q5ldUE-u8
Views: 787,039
https://www.youtube.com/watch?v=lUE0rqRqZmM
Views: 880,799
Samsung's latest campaign 'We are greater than I' built an advert around Trek Factory Racing, of whom they already sponsor. Watch out for random explosions, Gregory Rast having a wee, a late cameo from Spartacus himself Fabian Cancellara and the voice of none other than Carlton Kirby.
This seems just to good to be true than right place right time. But who are we to comment on the ease in which her skirt comes off. She doesn't seem too happy about it and flips him a rude gesture.