THE BIG INTERVIEW: BILL OWEN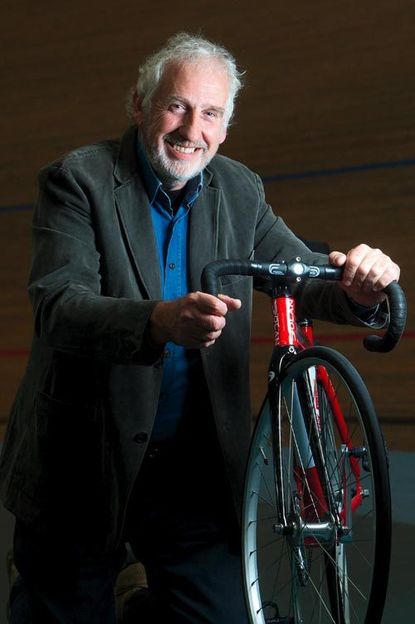 Bill Owen has been the backbone of cycling for longer than anyone can really remember. He famously burnt all his race signs and banners out of frustration after staging the National Road Race Championships 10 years ago, but returned to produce other big races, including three more National Champs as well as the Women?s World Cup.
Next week Owen brings his latest venture to his home town, the Abergavenny International Festival of Cycling, which features three UCI-sanctioned events in the Abergavenny International Criterium, Iron Mountain Sportif and the centrepiece Grand Prix of Wales.
Owen was also chairman of the Welsh Cycling Union when the Wales National Velodrome was built, and likes to think he played a part in bringing it to Wales.
His single-minded dedication to the sport is unusual given that he only had a short career as a competitive rider ? and featured on the front cover of this magazine, when it was called Cycling and Mopeds, back in 1963 as Welsh champion.
Now 63 years old, Owen continues to combine a job as MD of a local construction business with being Welsh Cycling?s president, a role on the board of British Cycling and pulling together big-time races over trademark routes.
CW: Why did you burn those signs?
BO: It?s a long story but back in 1996 I promised Shane Sutton, the Welsh coach, that I would get him a track. Calshot, in Southampton, were putting in a new velodrome and Ron Webb offered us the old one. We had to find somewhere to put it and looked for a big shed.
So what happened next?
BO: To cut a long story short, Blaenau Gwent Council got more interested in having their area as a National Centre for Cycling in Wales, including a 250-metre velodrome. I had the National Road Race Championships to promote so where better to do it than Blaenau Gwent to publicise their involvement in cycling?
Encouraged by the performance side of the Welsh Sports Council, we did a presentation for lottery money to them for the velodrome to be built there and didn?t get it. We had the Championships in Brynmawr, but it was like the Wild West, with young kids driving at our marshals at 90mph, so I said enough is enough. My son Alun had retired from cycling, and I burnt all the stuff in my garden.
How did you get re-involved with staging the National Road Race Championships again?
BO: I had a phone call saying that Cardiff Council wanted to put on the Nationals and would I advise them? Like a fool I did. This was in 2001 and, because a lot was outside my control, the event had some stick. Even though I was only there to advise, I ended up running the whole event.
What is it about the sport that you love so much?
BO: I suppose it goes back to my own cycling days. I only had a short career because I didn?t start cycling until I was 15 and I retired by the time I was 21. In that time, I won the Welsh Senior Championships when I was 18, which would be a junior today, and in 1963, I rode for Wales a couple of times but, when I was 21, I started my own business and got married. I regret that I didn?t carry on at a high level.
Is that the incentive to continue putting things back into the sport?
BO: Not really. I always kept in touch and bought Cycling Weekly to find out what was going on ? I was on the front cover of Cycling and Mopeds when I won the Welsh Championships and how many Welsh people have done that? So when my kids wanted to start cycling, there was no club in Abergavenny and I decided to start my own (twice).
Cycling has taken off in Abergavenny since, though.
BO: Yes, but in 1963 I was the only cyclist there. I had to shave my legs and, working on a construction site I got plenty of stick ? talk about being the only gay in the village!
A few years later, we sponsored the club and put on the first professional event in 1985 but, because my company was involved and a local company, who have been with us now for 20 years, Robert Price, was involved, we had to get it right.
It must have raised the profile of cycling in Wales?
BO: It did because, at the time, it was seen as a Mickey Mouse sport. But in Abergavenny people started taking it seriously and that was my main thing, to make sure the image of cycling was good.
When did you first stage the Grand Prix of Wales?
BO: The first professional event was the Abergavenny Classic in 1985 and, once we knew what we were doing, it became the Grand Prix of Wales. We put it on as an international which, in those days, was a real international with top professionals. We had riders who won stages in the Tour de France. Whatever we do, we have to do it right. That?s the important thing.
What made you think about reviving the Grand Prix of Wales and turning it into the Festival of Cycling?
BO: Everyone was going on over the last few years about the value of getting more people active and there is no reason why it can?t grow and grow now.
And now you have moved over to another platform, in that you have set up the Dragons Rider Trust that will help develop new Welsh cycling blood. Why?
BO: This has been on the cards for a couple of years now. We are determined to get on with it because there are riders out there who need help. Those who are outside of the Great Britain plan. The way that Welsh Cycling is funded means there is not much help and no way that Welsh Cycling can afford to help these riders. We saw this as a fund outside of the controls of red tape.
Have you had a lot of response?
BO: We have had a great deal of response and this year?s Abergavenny Festival will be the first time we have had the chance to start fund-raising.
Are you proud of what you have done in your 45 years working in the sport?
BO: I would like to think I have played my little part in bringing it all together and, in particular, bringing the velodrome to Wales.
Thank you for reading 20 articles this month* Join now for unlimited access
Enjoy your first month for just £1 / $1 / €1
*Read 5 free articles per month without a subscription
Join now for unlimited access
Try first month for just £1 / $1 / €1