THE BIG INTERVIEW: JONNY BELLIS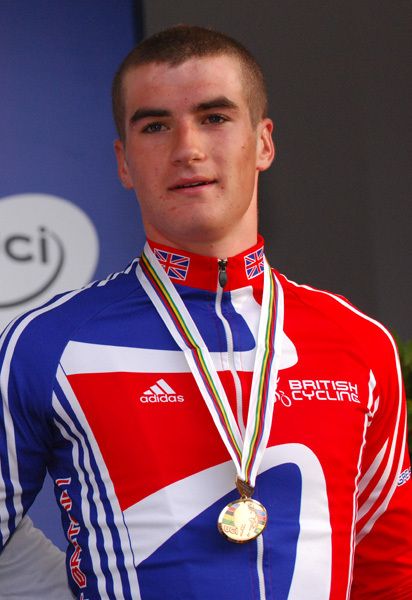 Get The Leadout Newsletter
The latest race content, interviews, features, reviews and expert buying guides, direct to your inbox!
Thank you for signing up to The Pick. You will receive a verification email shortly.
There was a problem. Please refresh the page and try again.
But for the dogged determination of British Cycling, Jonny Bellis would not even have been in the under-23 road race at the World Championships in Stuttgart.
Initially Britain was only allocated one place, which was given to Ben Swift, but British Cycling was convinced that the world rankings were wrong and that Britain was entitled to two further spots. After close examination, the UCI agreed and Bellis and Ian Stannard were added to the line-up.
Bellis capitalised by winning a bronze medal in the sprint ? Britain?s first in the under-23 World Championships, and the first medal in a men?s road race since Graham Webb?s amateur gold in 1967.
All that racing and training in Italy has clearly paid off and it?s a superb early endorsement for the work Rod Ellingworth and his team are doing.
Now Bellis, only 19, has his sights set on following fellow Manxman Mark Cavendish into the professional ranks.
Until a week before the World Championships you weren?t even in the race, that must have made your medal even more special?
JB: I had come to terms with not riding the road Worlds and was looking ahead to the track Nationals and having a good winter on the track. But all credit to Brian Cookson and everyone at British Cycling who pushed for us to get those two extra places. If it hadn?t been for him this result simply wouldn?t have been possible.
How did you play it, having only three riders?
JB: Tactically it was difficult but not awkward to be in that situation. We all knew we were strong enough to play a part in the final stages of the race, so it was a case of sitting tight until the last three laps.
We had to look after ourselves and make sure we were well positioned as the race got harder and faster.
With a couple of laps to go we had a talk and the other two [Ben Swift and Ian Stannard] said they weren?t feeling their best and that they?d do as much as they could to help me.
Ian did a great job to help pull back the remaining riders who were off the front and then Swifty stuck in there to keep me at the front.
What was the final kilometre like? Is it all a blur or do you remember it clearly?
JB: It all came together with a kilometre to go and I heard the commentator say: ?All these riders are in with a chance of winning this rainbow jersey.? I just thought I?d give it everything and see where I ended up. There was a lot of fighting for position and as we went round the last corner I was in 10th place. With 200m to go it wasn?t the best place to be but I just flew down the right side of the road. I seemed to be coming past all these people and I thought I was in with a shout of the top five. Then I got past two more and crossed the line third.
So you knew then you were third?
JB: Yeah, that?s why I lifted my arms. I thought: ?I?ve got a medal in my first road World Championships in my first year as a senior.? It was way beyond my expectations.
Bellis takes bronze in his first World Championships as a senior
Who was the first person you saw after the line?
JB: I saw the swannie [soigneur] Luc de Wilde. He couldn?t see the finish because of all the people and he said ?How did you do?? I told him I got third and he was jumping around with joy. Everyone couldn?t believe it. Standing on the podium was one of the best feelings of my cycling career so far. I?ve got used to it on the track because it?s quite a regular thing, but for it to happen on the road is amazing because this is what I want to be. I want to be a pro on the road.
Before the race what did you think of the course and the opposition?
JB: I said that if I could have designed the course myself this would have been it. As for the riders, I?d heard a lot of the names because I?ve raced against them or I?ve heard about them joining pro teams.
How much have you learned this year, training and racing in Italy with the Academy?
JB: At first it was really hard to get used to because I came straight from the track, straight into it. It was the first time I?d raced at that distance and the races were a lot longer and harder. I spent a lot of the time feeling quite tired. As the year went on, and I won gold in the scratch and team pursuit at the European Championships, I had a break and came back a lot stronger. The break did me good and I felt like I?d stepped up two levels. I was getting top 10s in the Italian races and feeling stronger all the time.
How has it been working for Rod Ellingworth? He?ll be sure to keep your feet on the ground won?t he?
JB: Rod is really good. He?s brought Cav and G [Geraint Thomas] through and what he?s done this year is amazing. He?s always there to listen but he doesn?t just say what you want to hear. He?s quick to point out your strengths and highlight strengths you didn?t know you had. He?s made me work on my sprint so I can use it at the end of a long race. Going into the last 200 metres at the Worlds I felt quite confident because of the work we?d done.
What about the Italian lifestyle?
JB: It?s easier than being in Manchester. In the UK we?d get up at 7am and leave for the track and not get back until seven at night. In Italy it?s a bit more relaxed. It?s still serious work but we go out for a long ride at 9am and spend much of the rest of the time taking it easy. Learning how to rest is a big part of what we do.
How?s your Italian language coming along?
JB: I?m getting there. A few more lessons this winter and I think when I get back there next year I?ll be a bit better.
What?s the plan for next year? Seeing that Cavendish and Thomas turned pro quite early in their careers must mean that?s on the horizon for you?
JB: Next year I want to defend my European titles on the track and start getting some results on the road. I was having a conversation with Max Sciandri and he was saying he wants the Academy lads to turn pro as soon as possible so we can learn from a young age. It?s great to see Cav and G coming through the system. Seeing what they?ve done makes me want to be there. Any opportunity I get I?ll take with both hands and hopefully that?ll come in the next couple of years.
With the possibility of a British professional road team strengthening all the time that must be something that excites you?
JB: Hopefully that?ll happen when I?m still young. We?ve got a lot of links with pro teams and the big attraction to people is that we run a clean programme so people know what they?re getting with us. If there?s a British pro team in future that would be fantastic to be part of.
The Commonwealth Games are a few years away but the Isle of Man are going to have a pretty formidable team.
JB: Yeah, there?s me and Cav and a couple of other riders coming through. We could be tough to beat. It must be the sea air.
Thank you for reading 20 articles this month* Join now for unlimited access
Enjoy your first month for just £1 / $1 / €1
*Read 5 free articles per month without a subscription
Join now for unlimited access
Try first month for just £1 / $1 / €1