The day Cycle Sport beat Cav (at chess)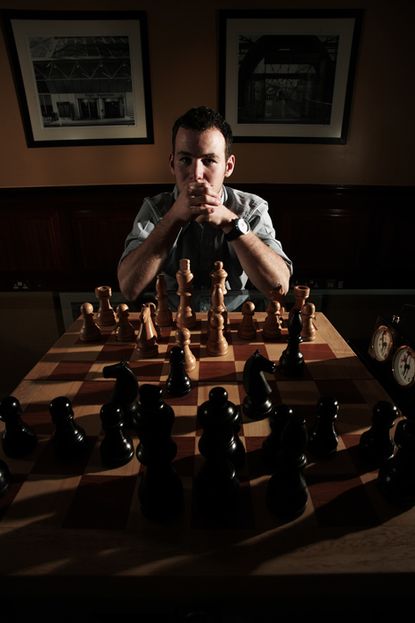 This article first appeared in the February 2009 issue of Cycle Sport.
The April issue is out now.
A few months ago we learned that every now and again, Mark Cavendish likes to play chess to keep his mind sharp. One day we were talking about it in the office and Edward, the deputy editor, said with the sort of bullish, no-nonsense self-confidence that Cavendish would admire: ?I could have him.?
Not ?I reckon I could beat him? or ?I?d give him a good game?. No. What Ed said was: ?I. Could. Have. Him.?
It was rather like hearing Mark Cavendish talk about the races he?s going to win, the only difference being that we?ve all seen that he has the legs to back it up. The question was, did Ed have the moves to justify his belief.
We could feel a Cycle Sport Challenge coming on, so we called Cavendish and asked if he would accept. He did, although he added the condition: ?I play speed chess, so you have to make each move in ten seconds.?
This upped the ante, somewhat.
Ed?s response? ?I?ll still have him.?
It's Garry Cav-sparov
For the cycling-related chess fixture of the decade, Cycle Sport hired the Viceroy Suite at the Radisson Edwardian Mountbatten hotel in Monmouth Street, a short walk from London?s Covent Garden. Pickering was in a relaxed mood, despite the lack of practice time and a hint of jetlag, although I caught him locking his fingers together and stretching his arms out in front of him a couple of times. This, I presumed, was the chess equivalent of limbering up, although it could have been a hint of nerves.
Cavendish arrived a few minutes ahead of our scheduled appointment, the sign of a man who meant business. He wanted to get on with it, so we ushered him into the room where the board of battle had been set up. With him were Brian Holm, one of the team managers at Team Columbia, and his friend, Paul Watson, the former British professional who started the Tour de France in 1987 for the ANC-Halfords team.
One of the pictures on the wall of the Viceroy Suite was of Manchester Velodrome. Given the way Beijing turned out, with Cavendish the only member of the British track team to return without a medal, and after he announced he would not ride on the track again because he felt he had been let down, this could have been perceived as mind games, admittedly not very professional mind games, more ham-fisted kidology. ?Did you bring that?? he asks. No, we assure him, it?s a coincidence.
As usual, Cavendish is a bundle of energy and it is immediately apparent he is relishing the prospect of a chess game. This isn?t a sports star slowly regretting having agreed to a daft request from a magazine and desperately thinking of a plausible excuse to get out of it as soon as possible, this is a man who?s here to play some chess.
He takes off his jacket and pullover and starts to roll up the sleeves of his shirt.
?I play speed chess, did I tell you that? Ten seconds a move. You can?t think, you just have to move,? he says.
Before Ed can offer Cavendish the choice of black or white pieces, he and Holm sit down opposite each other at the large glass table.
?I?m awesome,? says Holm, although he?s less than convincing.
Without so much as a by-your-leave they are playing chess. Manager and rider. The contemplative Dane and the instinctive Manxman.
?Quicker Brian, you?ve got to move quicker,? urges Cavendish. ?See this is why I get frustrated,? he says, turning to Ed and I. ?Too much thinking. You have to react.?
Their body language couldn?t be different. Cavendish is on the edge of his seat, leaning into the board, watching the board as if he?s a lizard waiting for a fast-moving insect to dart out from behind the rook.
Holm sits back, hands clasped together as if in prayer, fingers toying with his pursed lips.
It?s one-way traffic. Cavendish is out of the blocks quickly, advancing across the board and within a dozen moves Holm is in trouble. ?Check.?
Two moves later. ?Check mate.?
Suddenly it all gets very serious as Cycle Sport prepares to do battle with Cavendish Picture by Richard Baybutt
Check mate
Back in the early days of British Cycling?s academy, which started life as a boot camp for young cyclists, Cavendish used to play chess with Ed Clancy, now an Olympic gold medallist and team pursuit world record holder.
Cavendish taught Clancy the basics and the pair would play if they had some time to kill. ?I beat him pretty easily to start with, but then he started to get better, and the better he got the more he would think about each move.
?It used to kill me. He?d be sitting there, thinking, thinking, and I just wanted to get on with it, so we introduced the rule that you had to move really quickly, within ten seconds.?
Clancy remembers being on a hiding to nothing to start with. ?We used to play for a bit of a laugh, or I thought we did, but Cav took it pretty seriously. I think he feels there?s no point doing something unless you do it properly.
?At the start there was no way I could beat him, so I used to take my time to frustrate him. I think I beat him once and then I retired from chess,? he says, laughing.
?He?d relate the moves to a bike race and he saw it as brain training, you know, quick decision making, making a strategy up on the spot. Cav?s a clever guy, a really clever guy. He may not give the impression all the time but he thinks pretty deeply about quite a lot of things.?
Cavendish becomes quite animated when he?s talking about something he?s passionate about. It is odd, though, to reflect on how different he is from the on-screen persona we?ve seen after races. His body language betrays his emotions and he can easily punish a loose or lazy question from an interviewer with a withering cut-down. But if you will ask a sprinter who?s just been boxed in and beaten whether they?d have preferred to have won, what do you expect?
For some this makes him brash, loud, a little on the obnoxious side, too quick to speak first and think later, and there are plenty of television interviews conducted immediately after a race, particularly just after he?s lost, to use as evidence to support that view.
But away from the heat of battle, so to speak, he?s a very different character. Although still fiercely driven, bitingly opinionated and quick to react, he?s softer, eloquent and persuasive.
Perhaps to read his spoken words in black and white, they come across as confrontational, like his post-race television interviews, but there actually it is more that he is argumentative in the sense he tries to persuade you of his point rather than ram it down your neck.
He says it how he sees it, which should make him instantly likeable, but, some in Britain at least, prefer their sports heroes more demure. They don?t like it when 23-year-olds who have only been around for five minutes start talking about winning the world title, or the green jersey, or Milan-San Remo. At the end of last season, when explaining why he was ending his season after the Tour of Missouri and choosing not to ride Paris-Tours, he said: ?I?m tired, but there?ll be plenty of chances to win Paris-Tours. I?ll win it four, five times in my career.?
I must have swallowed hard and hesitated, because he said: ?What? Well, I could.?
It isn?t easy to hear such definitive pronouncements because you?re not supposed to do that, but, so far, he hasn?t missed a beat.
However, instead of seeing the remarkable string of victories and the meteoric rise to the top, which has swept Boonen, McEwen, Petacchi and many of the others aside as if brushing a loose thread from the lapel of his jacket, some just see the emotion etched on his face and hear only arrogance in his words.
As his coach, Rod Ellingworth, says later: ?The thing with Mark is he simply can?t understand the shortcomings of other people. It?s not that he?s unsympathetic or nasty about it, he just can?t get his head around it that things that come easily to him don?t come easily to other people.?
And the German coach Heiko Salzwedel, who ran the T-Mobile development team that helped usher Cavendish into the pro ranks, physically balks at the idea of smoothing the edges. ?No, no, you can?t change that instinct. That is what gets him to the line first.?
And later, when Cavendish talking about the contestants on the BBC television show Strictly Come Dancing he is forthright. As a teenager, Cavendish used to do a bit of ballroom dancing. He competed, naturally, and he liked to win, although he admits his dance partner was the talented one. His mother owns a dancewear shop in the Isle of Man and Cavendish was persuaded to take part, seeing it as a chance to meet girls, if nothing else. In fact, his fiancée Melissa is a friend of his former ballroom partner.
He says he preferred the Latin dances, all fire and movement, where you get a chance to wear your heart on your sleeve. No surprises there. Spotting a dancer is all in the footwork, he says. ?I can?t watch that programme. It?s too frustrating. I mean, how difficult can it be? You see these useless men who can?t dance. Even a simple Waltz,? he says, as he demonstrates a neat step in front and then to the side, ?I mean, how hard can it be?? He certainly knows his quick step from his Quick Step.
But back to the chess, which gives other clues to Cavendish?s character on and off the bike.
?I?m not any good,? he says, smiling broadly. ?You know how keen I am of blowing my own trumpet, but I never say I?m good at something if I?m not. But I do enjoy playing. I haven?t played for a while so I?ll probably get thrashed.?
Cavendish moves one of his big guns up the left-hand gutter. Pickering looks boxed in Picture by Richard Baybutt
Pawning the bishop
The comparisons between a game of speed chess and a sprint finish may seem clichéd and over-simplistic but Cavendish says there are parallels. Cavendish sees the most strategic board games ever devised as a chance to win, to capture, to get on the front foot and get after your opponent.
?I play aggressively,? he says. ?The idea is to capture the other person?s king, not defend your king, that?s how I see it. In speed chess you have to move quickly, you haven?t time to think three or four moves ahead. The picture is changing all the time and you have to react. By the time you take your hand off a piece it may already be the wrong move, but you have to adapt and be prepared to switch to a different strategy immediately.?
The way he explains it highlights the similarities with a bunch sprint. You may set out with a clear strategy but the picture may change in the blink of an eye and you have to change with it.
Capturing the other person?s king, or hitting the finish line first, they are the same thing.
Ed sits down opposite Cavendish and they kick off game one. Perhaps we should have told him that Ed used to be a pretty handy player and, he claims, qualified for the national junior championships as a youngster.
I start to get nervous about how Cavendish will take it if he?s beaten. Inviting a top-class sportsman with, he would admit himself, a sizeable ego to play chess only to crush his pawns into dust may not go down too well.
Are we about to see the wooden pieces swept onto the floor with a petulant swish of the arm? Not a bit of it.
Ed does not pull any punches and as the gets Cavendish into the chess equivalent of a head lock. But Cavendish wriggles, and grapples and meets the mental challenge full on. He?s more animated than you imagine the Grandmasters would be. You can?t picture Garry Kasparov fidgeting in his seat and huffing and puffing in quite the same way.
Game two is over even quicker, but by game three Pickering has a scrap on his hands and, for a while, it?s very close until Cycle Sport?s man finds the gap, swings off Cav?s wheel and overtakes him, metaphorically speaking.
Cavendish sportingly topples over his king in defeat and shakes his opponent?s hand. He?s beaming. ?That was great fun, I really enjoyed it.?
One-nil to Cycle Sport. What shall we do for the rematch? Bike race or cha-cha-cha? Either way, we?re not sure we stand a chance.
Swipe to scroll horizontally
WHAT'S IT LIKE TO BEAT CAV?
by Edward Pickering
What I love about cycling is the tactical finesse. Like any sport, it involves putting tactical plans into action, but this is invariably complicated by the physical stress the riders are under, and more importantly by the fact that other teams have their own plans.
Take out the physical stress, and it?s just like chess.
This is what Cav forgot when he conducted an all-out attack on my pieces, and forgot to spare enough attention to what I was cooking up. Chess involves defence and attack, while Cav?s speciality at the end of a race, sprinting, tends to favour the latter. He went right for my throat, with a combined bishop and knight attack that initially had me quite concerned. He also drilled his pieces into the board and held them down, like I imagine he might with me if I ever looked at him funny.
But while his roving bishop and knight harassed and molested my pawns, he left his other pieces undeveloped. I defended, and then developed my own pieces to start some harassment of my own. And this is where I tipped the balance in my favour. I set up a solid defence, then put my attack into place, while Cav just kept on attacking and attacking. I was doing the chess equivalent of pushing him away on his forehead while he swung his arms at me, while using my other arm to punch him in the side. One-nil to Cycle Sport.
I?ll save Cav?s blushes by drawing a discreet veil over game two, which all went a bit Ghent-Wevelgem. But by game three, I got into a bit of trouble. Cav had improved noticeably, and used more of his pieces, mimicking the tactics I?d used in games one and two. He wasn?t just playing his own game any more, he had absorbed the strengths of his opponent, and was playing mine.
He made life much more difficult for me by defending much more strongly, yet maintaining his attacking momentum. Cav didn?t quite raise his arms in the air, Tom Boonen style, in early celebration, while I nipped past him, Mark Cavendish style, but it was close.
Edward came third in the 1984 Devon under-11 chess championships
This article first appeared in the February 2009 issue of the world's finest monthly cycling magazine.
RELATED LINKS
Mark Cavendish: Rider Profile
Cycle Sport vs por rider chess showdown
Thank you for reading 20 articles this month* Join now for unlimited access
Enjoy your first month for just £1 / $1 / €1
*Read 5 free articles per month without a subscription
Join now for unlimited access
Try first month for just £1 / $1 / €1