The rocky and humiliating road to being a 'real' cyclist
Old School: Simon Warren recounts his journey into the realms of being a 'real' cyclist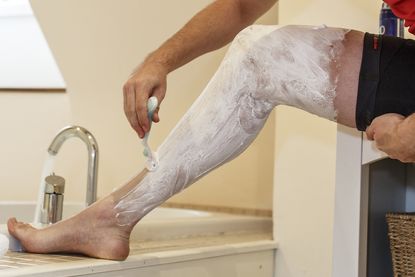 (Image credit: Jesse Wild)
The transformation from civilian to cyclist doesn't happen overnight; it's a long, complex, and constantly evolving journey.
A process of gleaning information, of picking up nuances and idiosyncrasies so each time you mix in your new circles your understanding of their conversations increases.
I like to compare it to learning a new language, and to begin my education I was sent down to WH Smith to buy a copy of Cycling Weekly.
I had no idea such a magazine existed, I found it, bought it, 70p I think it was, took it home, read it, and didn't understand a word of it. It was written in code.
>>> 31 things you always wanted to know about cycling, but were afraid to ask
I could have given up but I went back the week after and bought it again, and again and again, until I had cracked the code — until I had deciphered the dialect and could tell the difference between a seven-speed straight-through block and an 18mm Wolber profile rim.
Empowered with my new-found knowledge I was now confident enough to embark on the next phase of my development: to dress like a cyclist.
Luckily there was a specialist bike shop in town called Castle Cycles, but I was petrified of the place. I'd have rather walked into the dentist than venture through its doors to humiliate myself in front of the surly staff. Instead I went to see my uncle and begged for some hand-me-downs.
A day later a bag arrived, first item out, a pair of padded shorts, black naturally... Next was a baggy blue and yellow jersey, followed by a very well-worn winter jacket and some long woollen tights complete with braces.
Then, to complete the ensemble, a pair of lace-up Adidas cycling shoes. Not any lace-up Adidas shoes though, these had previously belonged to the town's best pro rider, Dave Miller (that's Dave Miller not Dave Millar. He was a pro with Raleigh in the early 1980s). These had provenance, these had won races!
I had the basics but still needed more stuff, so I got a Saturday job. Each week I'd earn £20 and, having plucked up the courage to cross the threshold, took it to Castle Cycles.
Week one, a hairnet helmet. The week after, a pair of Rudy Projects. The week after that, an Avocet computer.
I was now equipped and confident enough to go out riding with the local club, Newark Castle CC. I was shy, nervous, but they promised to look after me.
Know your hand signals
About 10 miles into that first club run and I hear a shout from behind: "Hey, have you got pants on under those shorts? Look, he's still got his pants on!" Cue laughter.
"What?" I ask, "you don't wear pants underneath your cycling shorts?" Lesson learned.
Next I wanted a drink: "Can we stop for a drink?" "STOP! Can't you drink from your bottle while riding? Hey, this lad can't even pull his bottle out while riding! No, you don't stop for a drink."
>>> Hot weather cycling: five tips to help you keep your cool
Another lesson learned. And so the schooling continued, everything from holding a wheel in a bunch, to fixing a puncture so a group of cold and wet clubmates don't leave you for dead in the middle of Lincolnshire.
Before long I looked the part, talked the part and was even starting to ride the part; there was just one thing left to do to complete my metamorphosis from normal human to fully fledged cyclist: I had to shave my legs.
For months my uncle had been winding my mum up: "He's going to shave his legs you know!"
"Not while he's living under my roof he's not," she would reply.
What was I to do? The hairs had to go; I'd come this far, I had to take the next step, to 'belong'. But on the other hand I had no plans to move out.
>>> Why leaving hair on your legs could help you go faster
So one day, I bit the bullet, locked myself in the toilet with a pack of disposable Bic razors, claimed I had diarrhoea and hacked the masses of thick blond hair off. You never forget your first time.
What had I done! I was bald, covered in blood and felt so unbelievably, impossibly naked.
The next day walking from the school bus I still felt as naked with clothes on, the bare skin sliding against my trousers.
Butting into a conversation between mates I stopped and told them. "I shaved my legs last night." From that moment on, it was serious.
I managed to hide it from my parents for three months. Thankfully they didn't throw me out, I guess they thought there were worse things I could have done.
Thank you for reading 10 articles this month* Join now for unlimited access
Enjoy your first month for just £1 / $1 / €1
*Read 5 free articles per month without a subscription
Join now for unlimited access
Try first month for just £1 / $1 / €1
Founded in 1891, Cycling Weekly and its team of expert journalists brings cyclists in-depth reviews, extensive coverage of both professional and domestic racing, as well as fitness advice and 'brew a cuppa and put your feet up' features. Cycling Weekly serves its audience across a range of platforms, from good old-fashioned print to online journalism, and video.