The Sufferfest launches in David Lloyd gyms
Video-based indoor cycling programme The Sufferfest is to be rolled out across David Lloyd gyms, starting in Southampton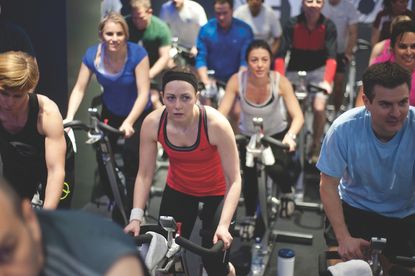 The Sufferfest, the video-based indoor cycling programme, has signed an exclusive deal with David Lloyd Leisure to roll out the platform in spin sessions across the country.
Developed by world-class coaches and driven by soundtracks, storylines and real race footage from the world's biggest races, the gym company hopes The Sufferfest will transform the indoor cycling experience for its customers.
Participants will be able to spin their way though important moments of the Tour de France, Giro d'Italia, World Championships and even Paris-Roubaix with on-screen instructions informing them what efforts are required.
>>> Interview: Sufferfest idea man David McQuillen
While the dedicated spin sessions include an instructor, the classes can also be run virtually, allowing members to make the most of the videos at other times.
Michelle Dand, David Lloyd Leisure's group health and fitness manager, said: "We're thrilled to be the first nationwide health club operator in the UK to be exclusively partnering with The Sufferfest to offer our members this exciting and inspiring programme, which has been taking the indoor cycling world by storm.
>>> Why self-torture on the turbo trainer is a necessary evil
"Every video features bespoke cycling workouts aimed at achieving great results, on screen instructions and incredible footage from the world's best races, providing a perfect blend of motivation, guidance and entertainment for riders of all abilities.
"Members will lose themselves in the drama, excitement and adrenaline of world-class bike racing!"
Thank you for reading 20 articles this month* Join now for unlimited access
Enjoy your first month for just £1 / $1 / €1
*Read 5 free articles per month without a subscription
Join now for unlimited access
Try first month for just £1 / $1 / €1