The world's toughest bike race: 9200km across Siberia
New Russian ultramarathon cycling event redefines what an 'extreme' bike race is all about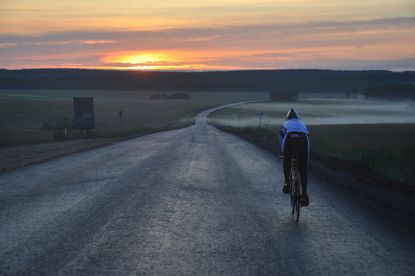 (Image credit: Red Bull Trans-Siberian Extreme)
A new cycling stage race has been introduced for 2015 that makes the Tour de France, Giro d'Italia and Vuelta a Espana look positively puny in comparison. The Red Bull Trans-Siberian Extreme in Russia is a 9200-kilometre race featuring 15 stages and a total of 58 kilometres of climbing.
The inaugural event takes place over July 14-August 6, starting in Russian capital city Moscow and then broadly following the route of the famous Trans-Siberian railway finishing in Vladivostok, on the Pacific Ocean.
The shortest stage is a mere 312km, and the longest is 1400km - which cumulatively makes the event the longest bike race in the world. For comparison, the Race Across America (RAAM) covers approximately 4800km to the Trans-Siberian Extreme's 9200km.
Several ultra-marathon cyclists have already signed up, including present Ultracycling European champion Eduard Fuchs of Austria, Russian Denis Madjara and Italian duo Paola Gianotti and Paolo Aste.
Road conditions vary wildly along the route, from smooth tarmac to unmade tracks as the riders travel through Siberia and its mountains, lake Baikal and Baikal Mountains. The route passes the border with Kazakhstan, Mongolia and China, and riders will pass through seven different time zones on their arduous journey. Participants will also have to deal with temperature fluctuations of up to 40 degrees.
For more information on the event, visit the Red Bull Trans-Siberian Extreme website.
Red Bull Trans-Siberian Extreme: Stages
Stage 1: Moscow-Kostroma (350 km)
Stage 2: Kostroma – Perm (1098 km)
Stage 3: Perm – Ekaterinburg (357 km)
Stage 4: Ekaterinburg – Omsk (960 km)
Stage 5: Omsk – Barabinsk (343 km)
Stage 6: Barabinsk – Novosibirsk (312 km)
Stage 7: Novosibirsk – Krasnoyarsk (790 km)
Stage 8: Krasnoyarsk – Tulun (635 km)
Stage 9: Tulun- Irkutsk (435 km)
Stage 10: Irkutsk – Ulan-Ude (460 km)
Stage 11: Ulan-Ude – Chita (660 km)
Stage 12: Chita – Svobodniy (1400 km)
Stage 13: Svobodniy – Oblutchie (314 km)
Stage 14: Oblutchie - Khabarovsk (386 km)
Stage 15: Khabarovsk – Vladivostok (775 km)
Thank you for reading 20 articles this month* Join now for unlimited access
Enjoy your first month for just £1 / $1 / €1
*Read 5 free articles per month without a subscription
Join now for unlimited access
Try first month for just £1 / $1 / €1