Thought you wanted to be pro rider? Think again
Having left BMC after one year, Campbell Flakemore tells his side of life as a professional rider in the WorldTour, and explains why the 'dream' in Europe was not for him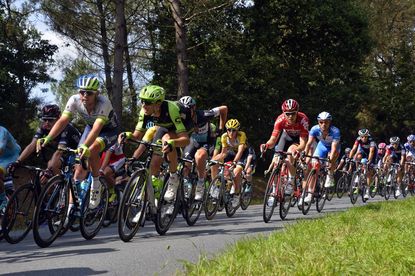 (Image credit: Watson)
Australian Campbell Flakemore lived a cyclist's equivalent of the American Dream before he quit BMC Racing, the WorldTour and the sport with no immediate next move planned.
Flakemore terminated his neo-professional contract with heavyweight BMC just eight racing months into a two-season deal that was confirmed right before he won the 2014 under-23 time trial world championship in Spain, ahead of Ireland's Ryan Mullen.
The 23-year-old had the talent, the support from his team and nod from the peloton, notably Cadel Evans, who anointed him as Australia's generation next Grand Tour contender, but could not find peace with the career decision.
>>> BMC's Flakemore ends his career after one year as a professional
"I'm not quite sure," Flakemore said, with a laugh, when asked what was next. "I just know it's not cycling for me. I'm happy I've made the decision and I'm sure I'll find something. I just want to enjoy a little bit of time off cycling and doing other things."
Flakemore grappled with the move to quit the sport he represented Australia, domestic and WorldTour teams in, for some 18 months, even previous to when he signed with BMC, before moving from Nice, France back to Hobart, Tasmania in November to redefine his future.
The decision was not born out of a health condition cruelly preventing him from doing something he loved, doping suspension or run of hard luck but 'simple' choice.
"For a lot of people it is a big surprise because they see it as you're living in Europe and living this dream, which it is at times, but sometimes it's the complete opposite," he said.
Flakemore pointed out that while the American Dream – in this case, the WorldTour – appears all that it is exceptionally hard work, sometimes ugly, lonely and definitely not for everyone.
"There's no room for weakness, you're eaten if you're weak," BMC sports manager Allan Peiper said.
That's not to say Flakemore was weak. In fact, his ability to ride to a world title, stage win and stint in the leader's jersey at the Tour de l'Avenir – the espoir equivalent of the Tour de France – while questioning his mental commitment to the sport even last year would suggest the opposite.
Flakemore listed lonely living in France as a factor behind his own choice, which at first seemed odd. After all, it's not like he wasn't accustomed to living and racing abroad, as he had done with the Australian Institute of Sport (AIS).
"With the AIS you always had five to six other young blokes but this year it was different. I was living by myself. I did have guys around me like Nathan Earle and Caleb [Ewan], who were living quite close, but there was a lot of times when you were by yourself and, yeah, it just wasn't for me.
"I asked myself do I see myself doing it for the next 10 years and the answer was no," he said.
Factor in the language barrier and that Flakemore, Earle and Ewan were all on different race programmes and probably rarely in Nice at the same time and the place loses appeal.
It's not just Flakemore that has felt isolation either.
Nearly all Australian professionals will recall a similar period in which nipping home, some 24 hours away, for a weekend refresh isn't an option. Statesman Michael Rogers once said he'd as a teenager based in Italy go weeks without speaking English to a single soul, and sometimes come close to crying himself to sleep. Peiper has referred to the period as "mental torture".
>>> What do pro riders think of disc brakes?
BMC noted that Flakemore on his return from injury at the January Tour Down Under was not his usual self, not "engaged". His form slumped racing on notorious Belgium roads, where everyone has to do due-diligence, and there were other tell-tale signs. He became hard to get hold of and was slow on uploading SRM data from training.
Peiper began a dialogue with Flakemore in March and even called Cycling Australia national performance director Kevin Tabotta to try and ascertain and understand his personality in hope of determining the problem and then helping. He was sent to the Tour of California in May where the roads are wider, sun exists and the language the same as his native tongue.
However, former Swiss national champion Michael Schär there, and within five months, went from describing Flakemore as one of the best rookie pros he'd seen to calling staff out of concern for his young team-mate's wellbeing.
BMC sent Flakemore to Australia, told him to regroup, after the Tour of California, which he did.
He returned for the Tour of Belgium at the end of the same month before going on to the Tour of Norway where the 'old Campbell' began to reappear. At the following Vattenfall Cyclassics in August, he was a sharp, happy and healthy rider, but maybe because at that race he asked for a word with Peiper in the team car and told his compatriot he had decided to quit.
It's a notable decision when you consider his talent, contract and that people whom enter cycling rarely leave.
Watch: Secrets of the toolbox - BMC
Flakemore when he left wasn't disenchanted by the sport but informed. He understood the reality early on – it's hard and there is a toll to pay for glory.
"It is another step-up, obviously the level is much higher, but at the end of the day you're still just riding your bike with 150-200 other guys so it's not the glitz and glamour of what it looks like on the TV at the Tour de France, which is what everyone sees," he said.
"To be a Grand Tour winner, the amount of work and sacrifice required to get to that level, people that aren't in cycling have no idea what it takes. I [don't] really see myself being able to do that and make all those sacrifices to be a top rider.
"I like to do things properly and to really do things as best as I can. I don't want to have to train three or four times a week and race and not be fully committed to it," he continued.
"Maybe 12 months down the track I'll miss it a lot and want to get back to it at some sort of level but for now I'm stepping out of it and enjoying being away from the bike for a while.
"It wasn't for me and I'm happy I'm out for now."
Thank you for reading 5 articles this month* Join now for unlimited access
Enjoy your first month for just £1 / $1 / €1
*Read 5 free articles per month without a subscription
Join now for unlimited access
Try first month for just £1 / $1 / €1
Sophie Smith is an Australian journalist, television reporter and presenter, who has provided coverage for Cycling Weekly from races across the world. She has covered eight Tours de France, as well as reporting for national and international newspapers as well as other magazines.
Follow Sophie Smith on Twitter and Instagram:
Instagram: sophiesmith86
Twitter: @SophieSmith86