Three Days of De Panne live TV guide
Eurosport will be showing live coverage of the race which runs from Tuesday March 29 to Thursday March 31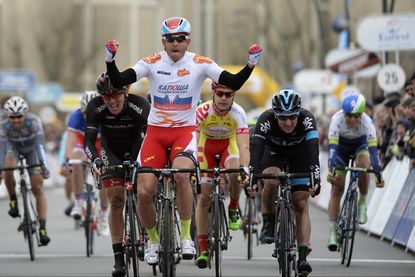 (Image credit: Watson)
Classics season is well and truly underway, and before we know it the cobbles will be swapped for the mountains of Italy and Grand Tour racing will take centre stage.
But before the Cobbled Classics are done for another year there is still plenty of racing left, in particular the Tour of Flanders and Paris-Roubaix.
Ahead of those two Monuments comes the Three Days of De Panne, which runs from Tuesday March 29 to Thursday March 31. Last year's edition was won in dominant fashion by Alexander Kristoff.
Just days later Kristoff went on to win the Tour of Flanders, so whoever takes the overall on Thursday who will a rider to watch on Sunday.
Three Days of De Panne 2016 TV schedule
Schedule is subject to change by the broadcaster
Stage 1, Tuesday, March 29
13:45-16:15, live, Eurosport 2
18:00-19:00, highlights, Eurosport 2
20:30-21:45, highlights, Eurosport 1
23:00-00:30, highlights, Eurosport 2
Stage 2, Wednesday, March 30
06:30-07:30, hightlights (stage 1), Eurosport 2
10:30-11:30, highlights (stage 1), Eurosport 1
12:30-13:45, highlights (stage 1), Eurosport 2
13:45-16:15, live, Eurosport 2
20:15-21:45, highlights, Eurosport 1
23:00-00:30, highlights, Eurosport 2
Stages 3a & 3b, Thursday, March 31
08:00-09:30, highlights (stage 2) Eurosport 2
09:30-11:30, live (stage 3a), Eurosport 2
13:45-16:15, live (stage 3b), Eurosport 2
18:00-19:00, highlights, Eurosport 2
21:00-22:25, highlights, Eurosport 2
23:35-00:25, highlights, Eurosport 2
Further highlights
Friday, April 1
03:30-05:00, highlights (stage 3), Eurosport 2
06:30-07:30, highlights (stage 3), Eurosport 2
10:30-12:00, highlights (stage 3), Eurosport 2
15:30-16:55, highlights (stage 3), Eurosport 2
Social media/web
Official Twitter account: @Driedaagse_ (opens in new tab)
Official website: driedaagse.be (opens in new tab)
Thank you for reading 10 articles this month* Join now for unlimited access
Enjoy your first month for just £1 / $1 / €1
*Read 5 free articles per month without a subscription
Join now for unlimited access
Try first month for just £1 / $1 / €1
Jack Elton-Walters hails from the Isle of Wight, and would be quick to tell anyone that it's his favourite place to ride. He has covered a varied range of topics for Cycling Weekly, producing articles focusing on tech, professional racing as well as cycling culture. He moved on to work for Cyclist Magazine in 2017 where he stayed for four years until going freelance. He now returns to Cycling Weekly from time-to-time to cover racing and write longer features for print and online. He is not responsible for misspelled titles on box outs