Tom Boonen starts racing again... this time in a car
The former world champ recently passed his race driving license and is hoping to get behind the wheel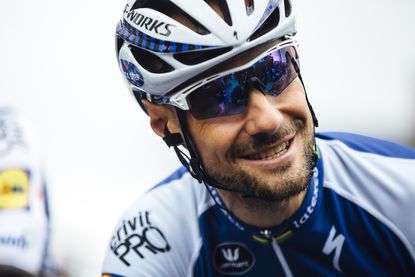 (Image credit: Daniel Gould)
Having retired earlier this year, the former world champ and all round cycling legend Tom Boonen hasn't been idle for long as he received his race driving license last week according to Nieuwsblad (opens in new tab).
Tommeke's thirst for competitive racing clearly hasn't subsided over these past months and racing was always going to be on his mind.
"For seven years now I regularly participate in 'Track Days', an opportunity to ride freely on the track," said Boonen. "But as a professional cyclist I had never allowed to take part in a competition. Now my career is over, I seized my chance. "
The former Paris-Roubaix star will take to the track for the 25 Hours VW Fun Cup, which sees 130 VW Beetles race for 25 hours with a team of drivers for each car.
In a homage to Boonen's 114 UCI wins, the car will adorn that magical number and Boonen's teammates will hope to add to it with at least a top 10.
"Our preparation is the best in years," said teammate Bert Longin. "With this team we would be able to finish in the top ten."
The race will take place between July 6 to 9.
Thank you for reading 10 articles this month* Join now for unlimited access
Enjoy your first month for just £1 / $1 / €1
*Read 5 free articles per month without a subscription
Join now for unlimited access
Try first month for just £1 / $1 / €1