Tour Down Under 2019 route: Willunga Hill remains the pivotal stage amongst a host of sprints
Guide to the six stages of the 2019 Tour Down Under, the opening race of the UCI WorldTour (January 15-20)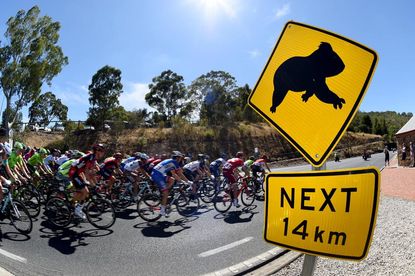 (Image credit: Watson)
The Tour Down Under 2019 route looks set to stick with tradition, with a host of sprinter's stages and a likely GC decision made on Willunga Hill.
Being the first race of the new men's UCI WorldTour season, and as such it attracts a huge amount of interest.
The race is almost entirely based around Adelaide, South Australia, and its environs.
The men's event runs from Tuesday January 15 to Sunday January 20 whilst the women's kicks off on Thursday January 10 and concludes on Sunday January 13.
>>> UCI WorldTour calendar 2018
There's a 'Tour Down Under Classic' criterium on Sunday January 13, too - but this doesn't form a part of the battle for the leader's jersey.
Tour Down Under 2019 route stages
Stage one, Tuesday January 15, North Adelaide to Port Adelaide, 132.4km
https://www.youtube.com/watch?v=1Hlxyib_NtE
Adelaide plays host to the start of the opening stage, with the route travelling into the Adelaide Hills, first navigating Snake Gully before completing three loops of Paracombe, Inglewood and Houghton.
A flat fast finish lends itself to a bunch sprint, and there's two intermediates, each at Inglewood with a KOM opportunity at Snake Gully.
Stage two, Wedsnesday January 16, Norwood to Angaston, 149km
https://www.youtube.com/watch?v=XR-0W_oosHg
Leaving Norwood Parade, the peloton disappears back into the Adelaide Hills, via Gorge Road and Chain of Ponds. The first ascent is Checker Hill, just outside of Kersbrook, and this forms the KOM climb.
There's sprints at Shannon Street and Miller Street, before a likely sprint finish in Angaston.
Stage three, Thursday January 17, Lobethal to Uraidla, 146.2km
A third stage played out in the Adelaide Hills, with a seriously undulating parcours consisting of punchy climbs.
After a loop through Charleston and Woodside, riders reach the KOM climb of Fox Creek. After riding through Forest Range, towards Summertown, there's six loops of the Uraidla, Piccadilly and Summertown townships.
There's two intermediate sprints at Charleston, and the finish is in Uraidla.
Stage four, Friday January 18, Uraidla to Athelstone, 129.2km
The race begins in Unley, with the hilltop towns of Stirling, Aldgate and Hahndorf featuring along the way. After visiting Mount Barker, riders face the Corkscrew climb - where there's KOM points on the line - before a downhill finish in Athelstone.
Sprints appear twice, at Adelaide Road.
Stage five, Saturday January 19, Glenelg to Strathalbyn, 149.5km
Things take a hilly turn with stage five. Leaving Glenelg, the peloton heads down the Southern Expressway to Myponga, before swinging off in the direction of Victor Harbor, Port Elliott, Middleton and Goolwa. Then it's back into the hills again, before a finish in Stranthalbyn.
The KOM climb is the Category 2 Sellicks Hill, and the sprints are at Myponga and Inman Valley.
Stage six, Sunday January 20, McLaren Vale to Willunga Hill, 151.5km
The Willunga Hill stage is so often the GC decider - and we'd expect it to be pivotal this year too.
The race starts in McLaren Vale, with the KOM points at Willunga Hill and the sprints at The Esplanade, Snapper Point.
Women's Tour Down Under 2019 route stages
The women's Tour Down Under also makes heavy use of the Adelaide Hills, though the Willunga Hill stage is yet to feature, with the final day being a criterium and likely to end in a bunch gallop.
Stage one, Thursday January 10, Hahndorf to Birdwood, 112.9km
The first stage kicks off in Hahndorf, and riders head into the Adelaide Hills, before a flat finish in Birdwood.
Leaving the start town, riders head north in the direction of Balhannah and Woodside, before completing a loop that covers Lobethal, Gumeracha (Intermediate Sprint point), Forreston, Birdwood, Mount Torrens and Charleston.
There's a diversion, to Mount Crawford on the second loop - before a climb to Mount Pleasant and the QOM points are awarded at Lucky Hit Climb.
Stage two, Friday January 11, Nuriootpa to Angaston, 116km
Stage two explores the Barossa region - with a largely flat route that finishes with an ascent to Angleston.
The main loop covers Greenock, Seppeltsfield, Tanunda, Bethany and Angaston ,with a KOM up Three Cols Climb, and a sprint at Murray Street.
Stage three, Saturday January 12, Nairne to Stirling, 104.5km
The race kicks of in Nairne, before a loop through Littlehampton, Balhannah and Oakbank. Then there's a left towards Hahndorf, before riders head south along the reverse of the men's stage 4 route.
There's an intermediate sprint in Echunga, and a QOM climb at Red Gum Hill in Greenhills Range.
The Adelaide Hills appear again, before more loops of Stirling, Heathfield and Aldgate before a climb to the finish.
Stage four, Sunday January 13, Bartels Road to Bartels Road, 42.5km
The final stage of the race is a criterium - so unless the standings are really close, it's unlikely to decide the winner. However, the fast sprinter's race should provide a spectacle and a new stage winner.
Thank you for reading 20 articles this month* Join now for unlimited access
Enjoy your first month for just £1 / $1 / €1
*Read 5 free articles per month without a subscription
Join now for unlimited access
Try first month for just £1 / $1 / €1