Track worlds day three: Armitstead again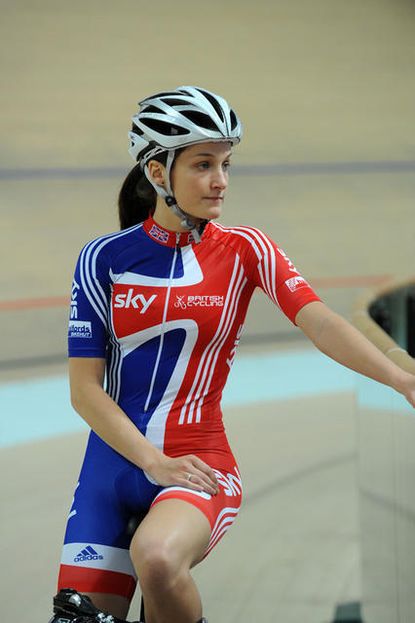 Two riders are emerging from these track worlds as the star performers.
Both Lizzie Armitstead and Taylor Phinney have won a gold and a silver medal, and both have done it the hard way.
American Phinney did it by swapping from endurance to sprint and taking silver in the kilometre, while Armitstead took her silver after sliding down the track on her backside.
But the 20-year old?s determination is such that even while she was sliding down the track you could see her looking for her bike. It was held up for her coach Simon Cope, who had rushed round the track to help, and as soon as she could put her feet on the track apron, she stood up, grabbed her bike, and jumped back on it.
She got going and jumped straight back in to the bunch as it came round the track. She was back in the race within 30 seconds of the time she?d hit the boards.
With a gold medal from the team pursuit already round her neck, Armitstead could have decided to leave it there, stay out of trouble, and concentrate on Sunday?s points race. But instead she got herself to the front of the bunch and sprinted to silver, and in doing so demonstrated an impressive level of determination.
Pursuit medal run brought to an end
Unfortunately there was to be no medal in the men?s team pursuit for Great Britain, the first time since 1999. The young team were pushed out of the bronze medal position by New Zealand, but had they nailed their first ride they could have been going for gold.
In the morning?s qualifying ride the British quartet went out too fast for the first six laps and paid for it later in the event. They eventually missed out on the gold ride by just a quarter of a second.
It was no great surprise that a young team had gotten a little over excited by the occasion, but it was a surprise that they didn?t go faster in the second ride.
Although it?s disappointing that there was no medal in the event the British have dominated in the last two years, there?s more encouragement if you scratch below the surface.
The average age of the British team was 21, Ed Clancy broke a bone in his foot three weeks ago and the other three had suffered a bout of food poisoning just last week.
They had also had all the Olympic equipment taken away for them for these champs. Riding a 4-00, then a 4-01 under these conditions was therefore no mean feat.
2009 UCI TRACK CYCLING WORLD CHAMPIONSHIPS
Follow Cycling Weekly on Twitter>>
RACE REPORTS
The CW Hub: Track World Championships index
Women's team pursuit: Britain clinch gold
women's team sprint: Reade and Pendleton score silver
Men's scratch race: Cavendish marked out of contention
Men's individual pursuit: Phinney wins gold
Men's team sprint: France beat Britain
Men's Points Race: Newton gets bronze
Women's individual pursuit: Houvenaghel beaten to silver
500m TT: World record for Krupeckaite, bronze for Pendleton
NEWS AND FEATURES
Track worlds day one: steady start for team GB
Why there's no Brit in the individual pursuit
No individual pursuit for Britain at track worlds
No room for complacency in British Cycling: Iain Dyer interviewCavendish in the frame for Scratch race world title bid
2009 Track Cycling World Championships preview
Crampton set to fill Sir Chris Hoy's team sprint spot
2009 World Track Champs GB squad named
Hoy to miss world track champs
Track World Championships: British medal winners
CW's Dummies' Guide to Track Racing
PHOTOS
GB RIDER PROFILES
Men
Jonathan Bellis
Steven Burke
Mark Cavendish
Ed Clancy
Matt Crampton
David Daniell
Ross Edgar
Jason Kenny
Chris Newton
Jamie Staff
Women
Lizzie Armitstead
Wendy Houvenaghel
Victoria Pendleton
Shanaze Reade
Joanna Rowsell
Jessica Varnish
RECENT RESULTS
International track results last season: 2007-2008
International track results this season: 2008-2009
2008 TRACK WORLD CHAMPIONSHIPS LINKS
Full results from the 2008 track worlds
Report: Sunday, day five>>
Report: Saturday, day four>>
Report: Friday, day three>>
Report: Thursday, day two>>
Report: Wednesday, day one>>
EXTERNAL LINKS
Track Cycling World Championships 2009 official website
Thank you for reading 5 articles this month* Join now for unlimited access
Enjoy your first month for just £1 / $1 / €1
*Read 5 free articles per month without a subscription
Join now for unlimited access
Try first month for just £1 / $1 / €1