Transport minister calls for 20mph limit across Scottish towns and cities
Scottish transport minister Derek Mackay hopes more councils will adopt compulsory 20mph speed limits in built-up areas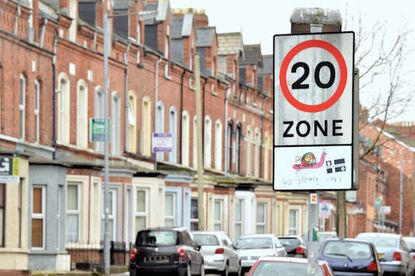 Scottish transport minister, Dereck Mackay has urged local authorities to adopt 20mph speed limits in towns and cities to reduce accidents and casualties.
A trial for 20mph roads in Edinburgh four years ago, with several other towns across Scotland also adopting lower speeds and even the A77 trunk road in Ayrshire piloted the new limit.
And Mr Mackay hopes the reduced speed limits will become more widespread, but concedes that some councils have been waiting for the results of Edinburgh's city-wide trials before adopting similar schemes.
"If 20mph limits are seen to be more widespread and legally enforceable, they would be taken more seriously and there would be higher compliance," he told the Scotsman.
"I can't direct from the centre, but encourage councils to do what's appropriate for them in built-up and residential areas.
"Edinburgh has made good progress, and other local authorities might want to follow. An edict would be too blunt an instrument and not well received."
>>> New 20mph speed limit for London roads in bid to save lives
Stuart Hay, director of Living Streets Scotland, is in favour of reducing speed limits, saying: "It's encouraging that the transport minister is backing 20mph as the most appropriate speed for urban areas.
"Lower speeds are vital for safety, and boosting cycling and walking on Scotland's streets."
But the plans are not being universally accepted, with Neil Greig, policy and research director of the Institute of Advanced Motorists saying that the scheme would be hard to police and that many drivers would not adhere to the 20mph limit.
>>> Call for 20mph speed limit in Glasgow
"A default 20mph in towns and cities might simplify the situation in some ways, but it would not address the fundamental point that drivers take their speed cues from the road environment.
"If a road looks safe above 20mph, that is the speed that many will choose. Blanket bans are too broad brush, and enforcing them would consume police time.
"Resources should be concentrated on those roads with a speed-related accident problem, and those with high pedestrian and cycling flows."
Thank you for reading 20 articles this month* Join now for unlimited access
Enjoy your first month for just £1 / $1 / €1
*Read 5 free articles per month without a subscription
Join now for unlimited access
Try first month for just £1 / $1 / €1