Watch: Truck laden with hay takes down Tour Down Under finish-line inflatable
Hay-bale-laden truck ploughs through finish-line inflatable gantry in Gumeracha just prior to the end of the opening stage of the 2018 Women's Tour Down Under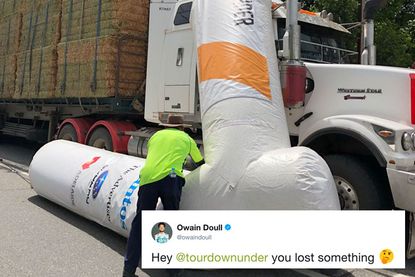 (Image credit: Owain Doull/Twitter)
The moment a truck accidentally takes out the Start/Finish sign at the women's Tour Down Under at Gumeracha. Report in 7 News at 4pm and 6pm. (Video: ABS) pic.twitter.com/RpYlD5zGi2
— 7 News Adelaide (@7NewsAdelaide) January 11, 2018
The inflatable gantry on the finsh-line of the opening stage of the 2018 Women's Tour Down Under was sent crashing to the ground by a truck laden with hay bales.
The truck was part of traffic moving through the finish area just prior to the end of the opening stage of the race in Gumeracha, Adelaide, on Thursday.
>>> Tour Down Under 2018: Latest news, reports and race info
From video footage captured by ABC Adelaide, it appears as though the truck driver is oblivious to the height of his vehicle exceeding the inflatable. He dragged the limp inflatable down the road before stopping.
ABC presenter Sarah Hancock looks visibly shocked as the truck hits the object.
Several spectators were near the gantry as it was swept away by the truck, but there were no reported injuries and ABC Adelaide reports that the police were not involved in the incident.
http://www.youtube.com/watch?v=OQVwaVGJgzI
An image of the inflatable caught up on the front of the truck was posted by Team Sky rider Owain Doull shortly after the incident. The team had been riding in the area as the incident happened.
Race organisers quickly retrieved the downed inflatable and managed to put it back into place and re-inflate it safely before the finish of the stage.
Ausstralian Annette Edmondson (Wiggle-High5) won the stage ahead of Italian Giorgia Bronzini (Cylance Pro Cycling) with Lauretta Hanson (UniSA-Australia) in third. The four-stage Women's TDU concludes on Sunday.
The men's Tour Down Under kicks off on Tuesday, January 16, and finishes on Sunday, January 21.
Thank you for reading 20 articles this month* Join now for unlimited access
Enjoy your first month for just £1 / $1 / €1
*Read 5 free articles per month without a subscription
Join now for unlimited access
Try first month for just £1 / $1 / €1