Van driver filmed forcing cyclist off road to appear in court charged with dangerous driving
Driver also lost his job over incident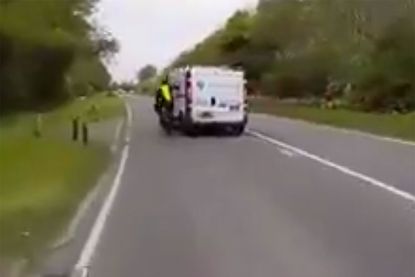 A van driver who was filmed forcing a cyclist off the road in April will appear in court charged with dangerous driving on July 19.
The driver, who lost his job after footage of the incident was posted online, is due to appear in Crawley Magistrates' Court next week to face the charge.
The incident reportedly occurred on April 30 on the A272 in Sussex, with the driver swerving into the cyclist, who manages to stay upright but is forced onto the verge at the side of the road.
>>> 'Incidents like the Sussex van are a frightening daily occurence and we all have stories to tell'
Footage of the incident spread quickly on social media, with the driver being dismissed from his job at Surrey-based refurbishers Vidette UK.
Ian Frazer, the company's managing director, said at the time that the driver had apologised for the incident, but would still be dismissed over his actions.
"We cannot condone nor let this behaviour have any place within our company," Frazer said. "We have decided to make an example here and to promote driver awareness going forward. He has been dismissed from immediate effect."
Thank you for reading 20 articles this month* Join now for unlimited access
Enjoy your first month for just £1 / $1 / €1
*Read 5 free articles per month without a subscription
Join now for unlimited access
Try first month for just £1 / $1 / €1