Check out Velopresso, the bike that makes coffee (video)
The invention you've all been waiting for...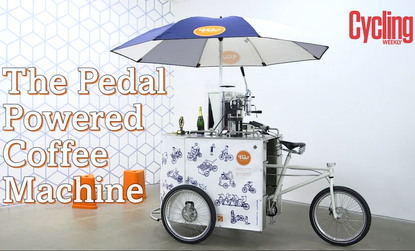 It's a bike and it makes coffee. Surely this is the invention us cyclists have been waiting for?
Designed by Amos Field Reid and Lasse Oiva, the Velopresso is a thing to behold. Constructed to order in London, it uses as many parts as possible that are custom made in Britain.
Its design brief is to be compact, energy efficient, electricity free, mobile… and capable of making good coffee. It won the Constructors' Challenge at the Bespoked Handmade Bicycle Show in Bristol in April this year.
Pedal power is responsible for grinding the coffee beans to order and of course for pootling around on the machine. While we didn't get the chance to try the coffee, it comes from a commercial spring-lever espresso machine.
>>> Results are in: drink coffee, ride faster
Even Sir Chris Hoy, who in his peak form could churn out the best part of 2000 Watts in a sprint, would struggle to provide the 3kW needed for the espresso boiler. So that bit is gas powered.
Thinking of buying your next bike and looking at the Velopresso? Well a basic machine will set you back a minimum of £9995. Three have so far been sold, with more orders on the way.
One of those three is currently residing in Poplar, East London, although it goes without saying that its precise postcode changes from day to day.
While we like the thought of pedalling around town drinking coffee from this beautifully made little machine, the drag coefficient of those custom fabric panels and umbrella means the Velopresso is not going to be threatening the traditional cafe stop on the cycling club run any time soon.
Highlights from the 2015 Bespoked Show
Thank you for reading 20 articles this month* Join now for unlimited access
Enjoy your first month for just £1 / $1 / €1
*Read 5 free articles per month without a subscription
Join now for unlimited access
Try first month for just £1 / $1 / €1