What is the world's ultimate cycling challenge?
We rounded up the hardest bike challenges you can tackle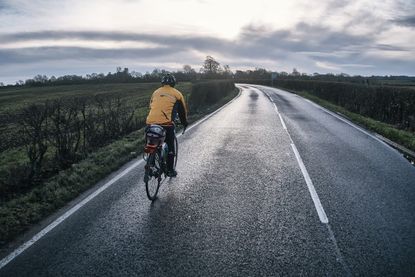 (Image credit: George Marshall / Strava)
You know that feeling of satisfaction when you smash a Strava segment's PB – or even better, your best friend's time?
If yes, think all over again, because if you compare it to one of these records, it will make your personal best look like a tea party. Or, in the best case scenario, they might give you some inspiration for next year's bike challenge.
>>> 16 cycling challenges as voted by you
First of all, in order to print your name in one of the following cycling's titanic endeavours, you need to decide if you want to be remembered in the Guinness' book of records , in the UltraMarathon Cycling Association magazine (you need to be a member in order to attempt your record), or both.
Bear in mind that setting a record for the Guinness' book will not automatically give you the second achievement, while if you're a member of UMCA and, you can also get your achievement certified by the latter.
When you've done so, it's time to get those legs spinning …
5. Distance records: 100 and 200 miles or 1,000 km
If you thought that your local evening 10, or even the already brutal 50-miler, made you suffer enough, don't forget that somebody already tried to set a world-record in a 100 and a 200-mile time trials. Moreover, others have gone even further and cycled to set the fastest time over 1,000 km (the records are set in three different under-categories: on a road, on an indoor track, or on an outdoor one).
>>> Haley Simmonds: how losing 45kg helped her realise her time trial potential
The 100-mile road record in the UMCA's list is 3 hours and 48 minutes, and it is held by Slovenian rider Marko Baloh in 2012, who kept an average of 26.24 miles per hour (42.22) for the whole time of his effort.
Baloh also set the 200-mile record with an even more impressive 8 hours 17 minute time (average 24.10 mph / 38.78), whereas the 1000-km record has been set by Spaniard Francisco Javier Vacas Rodriguez in 31 hours 01 minutes (20.03 mph; 32.23 km/h).
4. Timed records: 12 and 24-hour records
Thought that distance records were nuts? The 12 and 24-hour records (particularly on the alienating environment of a track and because they require no sleep) are probably even worse. Both have been attempted either on a road or on a track (the latter indoor and outdoor).
>>> Icons of cycling: Fancesco Moser's 1984 hour record bike
The current 12-hour road record is 285.07 miles (458.77 km) and it was set, once again, by Baloh in his home country in 2007.
The 24-hour road one, on the other hand, was set by Austrian rider Christoph Strasser in 2015, when he rode for 556.856 miles (896.17 km) around the former airport of Templehof in Berlin.
Big surprise: the indoor track ones also belong to Baloh, who was able to set both in 2010: 295.31 miles for the 12-hour (475 km), and 561.57 for the 24-hour (903.76 km).
3. City-to-city / capital-to-capital
It was hard to choose between which was more difficult between this and the last challenge, but the difference on your legs might be large enough that you'd feel it if you were taking on the Darwin to Adelaide in Australia (1881 miles / 3027 km), or the Montecarlo to Andorra in Europe (420 miles / 675 km).
>>> Meet the man who rode from London to Paris in just 12 hours (video)
If you're an aficionado of the UK roads, don't panic, there's good options here as well if you don't want to travel that far (and possibly ride on the right side of the road!).
In 2014, Chris Hopkinson cycled from Buckingham Palace Main Gates to Cardiff's Castle (164 miles / 262 km) in 9 hours and 19 minutes; while Peter Vance – the same year – did the Dublin to Belfast (110 miles – 177 km) in just 5 hours 27 minutes. Records that you could smash tomorrow.
2. Cross country
Cross country, in this case, doesn't mean off-road, but literally the cross of an entire country or state on your beloved bicycle. And if the Bahamas one can sound exotic, charming and doable (the longest one here registered is a 'mere' 161 miles), if you target the US or Russia crossing, then you might end up in a big trouble.
>>> This is what it takes to ride 4,400 miles across America unsopported
It doesn't really matter if you pick the San Francisco to New York, the Miami to San Diego or the Santa Monica to New York and back; this monster challenge will keep you busy for several days (or almost a month if you want to do the coast to coast twice).
Vladivostock to Saint Petersburg? Also something barely imaginable: 9,991 km (6,208 miles) in 21 days, 19 hours and 31 minutes at the average speed of 19 km/h (11 mph) done by Austrian Wolfgang Fasching in 2014 (July 23 to August 13).
1. Highest annual mileage / Around the world record
However, as long as we can't ride to the Moon or Mars, the mothers of all cycling challenges might be the highest annual mileage and the around the world record.
So far, the highest mileage recorded in the 'one year time trial' is 76,076 miles (208.43 a day) that Kurt Searvogel from Arkansas was able to ride from January 10, 2015 to January 9, 2016. The previous record was set in 1940 by British rider Tommy Godwin, with fellow Brit Steven Abraham starting an attempt in 2015, but later postponed after injury caused a set back.
>>> Bruce Berkeley postones cycling year record attempt
The year-round record was initially organised in 1911, when Cycling Weekly (at that time still known as Cycling) launched the challenge.
On the other hand, the current male record for the 'around the world cycling record' is held by New Zealander Andrew Nicholson (123 days and 43 minutes from Auckland to Auckland), while the female one is held by Italian Paola Gianotti (144 days from Turin to Turin, despite suffering vertebrae along the way).
Advice before you begin your own attempt? Before challenging these records make sure you read the regulation in advance. The last thing you want is to be disqualified halfway through because of not being compliant with the rules!
Thank you for reading 10 articles this month* Join now for unlimited access
Enjoy your first month for just £1 / $1 / €1
*Read 5 free articles per month without a subscription
Join now for unlimited access
Try first month for just £1 / $1 / €1
Nick Busca is a freelance cycling and triathlon journalist. He is also a certified triathlon coach and personal trainer.