Leigh Howard ready to lead-out Matt Goss at Giro d'Italia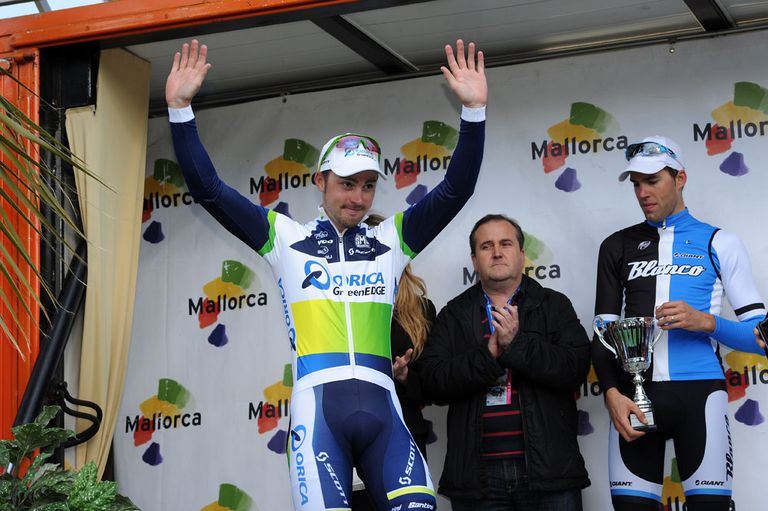 Aussie sprinter Leigh Howard got a pleasant surprise when he received a late call-up for the Giro d'Italia where he is set to play a crucial support role to Orica-GreenEdge leader Matt Goss.
Howard was scheduled to compete at the Tour of California but could serve as Goss's key lead-out man when the race opens with a 130km flat stage on Saturday.
The 26-year-old Goss is one of a few big-name sprinters that will compete at the first Grand Tour of the season that Britain's former world champion Mark Cavendish (Omega Pharma-Quick Step) will also start.
"I only found out probably five or six days ago myself. They called me halfway through [the Tour of] Turkey and said I was going to the Giro," Howard told Cycling Weekly today.
"I haven't seen Gossy for a while now, since the Classics, but I'm assuming my role will be his main lead-out guy - second last. Hopefully I can step up and make my mark there and later in the Giro, depending on how Gossy is going, hopefully I can get my own chances."
Goss won stage three of the Giro last year and finished second in another two in what was his first experience as a primary leader with the then fledgling GreenEdge outfit. The 2011 world champion silver medalist marked his first Giro career stage win in 2010 with HTC-Columbia.
Howard and Goss have ridden together once previously, with Highroad, at the Tour of California. Daryl Impey has worked as a chief pilot to Goss but the South African is expecting the birth of his child this week and won't compete.
"I actually went out training with Daryl Impey today," Howard said.
"I was talking to him and he said, 'you know what to do, you just lead-out the way you'd want a guy leading you out,' which makes perfect sense."
Brett Lancaster will also be an integral part of Goss's sprint train. Australian road and time trial champion Luke Durbridge, who marks his Grand Tour debut, as well as Christian Meier, Jens Keukeleire, Jens Mouris, Pieter Weening and Svein Tuft round out the squad. Orica-GreenEdge will first and foremost target sprint stage wins but also has opportunists.
"As far as the team with pure horsepower," Howard said, "I think we'll have one of the strongest, if not the strongest, lead-out train.
"A lot of teams are going there with GC ambitions and a lot of climbers. Quick Step always have a good line-up and they've got the fastest sprinter with Cav, but as far as horsepower we've got Gossy, myself, Brett Lancaster, Jens Mouris and Jens Keukeleire in the finish. We just have to work together and make it click."
Howard leaves for Italy tomorrow spending some 48 hours at his Girona, Spain home in between the Tour of Turkey and his Italy departure. He hopes to finish the Giro, which doubles as his second Grand Tour having completed the Vuelta a Espana in 2011 with Highroad.
"I was planning on coming home and spending a couple of weeks training in the hills and lose an extra kilo or two but I haven't had the time to do that," he said. "The hills will be a bit of wait and see. Hopefully I'll be going okay. I certainly won't be climbing like I was last year in the Tour of California, but in saying that my sprint, and my power in the sprint, is a lot higher than previous years, so I'll put that to good use in the finishes."
The 23-year-old recorded two top five stage finishes at the Tour de San Luis in January and won the Trofeo Migjorn and Trofeo Platja de Muro in February before leading his team at Paris-Nice where he was third in stage two to Cerilly. He supported Aidis Kruopis to a stage in in Turkey last week.
Howard has replaced Michael Matthews, who fell ill at the Tour of Romandie, with his results this season earning him Giro selection.
"This year I've been focusing solely on my sprint and trying to win sprints," he said.
"In the future I'll definitely keep focusing on this and I want to become a top sprinter.
"It's been my best season so far. Everything is slowly starting to come together. I'm sprinting better, I'm positioning better. I still want to keep improving. I went to Paris-Nice and I stuffed up the first stage, which was just a stupid mistake hopefully I never make again. But then I went on to stage two and won third there with the uphill sprint. Uphill sprints have never really been a strong suit so it shows that I'm definitely improving in that area as well."
Omega Pharma-Quick Step is yet to announce its squad that will assist Cavendish in Italy. It's unclear if the 27-year-old, who has won 10 individual stages at the event, will finish the tour that most sprinters generally depart after a fortnight, and before the high mountain stages.
Cavendish finished a close second in the points classification last season and with seven flat stages - including the opening and closing - may have enough incentive to stay on.
There's speculation the recently retired Alessandro Petacchi could join Omega Pharma as Cavendish's chief pilot at the Giro, if not later in the season, but that is yet to be formally confirmed.
General manager Patrick Lefevere and Cavendish have been both supportive but also at times critical of the performance of their sprint train in the final kilometres of various races. The 39-year-old Petacchi could fill the obvious gap.
The team has also expressed interest in Cavendish's former teammate and pilot Mark Renshaw, whose current contract with Blanco expires at the end of this year.
"I wouldn't mind having Petacchi! He certainly knows his way around the bunch and in a sprint finish," Howard said.
"I think as a pure sprinter, I wouldn't say past it, but he's past his best. However, if he were to take on the role of being a pilot, or a lead-out man, I think he'd be really good. He's still got speed there, he's got the knowledge and he has the strength, but I don't think it would be a long transfer. Maybe he'd sign for 12 months or 18 months.
"I wouldn't say Quick Step have got the strongest lead-out team ever but they work very well together. At the Tour of Turkey, I think their best sprinter was maybe Andy Fenn, you look at a couple of stages and they were a bit like Highroad used to be. They tend to click very well. They're always a team that's going to be there at the finish to help their sprinter."
Read Cycling Weekly magazine on the day of release wherever you are in the world with our iPad and iPhone edition - International digital edition, UK digital edition. And if you like us, rate us!