Welcome to Thursday's live blog where I, Vern Pitt, will be taking you through al lthe news that's out and about in the world of cycling today.
It's also new issue day here at Cycling Weekly and this week's is a bumper review of the year. We've got interviews with Geraint Thomas; Ned Boulting on Mark Cavendish's scintillating National Championship road race win; the story of Quick-Step Alpha Vinyl's naked phone call with the King of the Belgians; and much, much more.
You can get subscriptions and single issues here at Magazines Direct.
Key developments
9.30 - Astana keen on signing Mark Cavendish
9.45 - The 97-year-old Tour de France yellow jersey holder's birthday
10.01 - UAE-ADQ's new kit
10.43 - Grand tour winners head to Tour Down Under
11.40 - Rapha's sustainability stats
14.09 - Remco Evenepoel's coach weighs in on his form
Refresh
Astana makes a move for Mark Cavendish
Astana Qazaqstan has made a move for Mark Cavendish's signature for 2023.
According to a report on Cycling Weekly sister site CyclingNews, team manager Alexander Vinokourov has spoken to the Manxman in an attempt to broker a deal.
"I gave him a phone call saying if he was free then we could talk," he told the site. "It's true he's what? 35 or 36? [37 - Ed.] but what really matters is if he's motivated. I won the Olympic Games when I was nearing 40."
But he was keen to caution that a complete deal was still some way from being realised.
Apparently the Kazakh's kids Alexandre and Nicolas, who race in the Astana Qazaqstan team, are big Cavendish fans. "They told me, Dad, try to sign him," Vinokourov said.
Just on the off chance you've not been following the Cavendish signature soap opera let me get you up to speed.
He was set to sign for B&B Hotels-KTM but then the big money sponsorship expected for that team fell through, what came first the lack of sponsorship or the lack of Cavendish isn't quite clear. Anyway the whole squad, then collapsed in short order.
Since then there have been reports of links to various teams including Human Powered Health, Groupama-FDJ (very briefly) and even British Continental level squad Saint Piran made overtures to the Manxman.
Earlier this week fellow Isle of Man resident and long-standing friend Peter Kennaugh told the Never Strays Far podcast that Cavendish definitely had a team for 2023.
But Cavendish's agent has remained tight-lipped, we've called him numerous times, on all these. Wherever he's going - or even if he's retiring - Cavendish seems keen to keep the cycling world waiting for that confirmation.
Is Tom Pidcock 'a little nonchalant'?
Eurosport cyclo-cross analyst Thijs van Amerongen has said Tom Pidcock may be "a little nonchalant" at the start of cyclo-cross races.
Speaking after the World Champion had come third behind winner Wout van Aert at the Dublin World Cup race at the weekend, van Amerongen told Belgian newspaper Het Nieuwsblad: "What strikes me is that he is so lax in the start. You can't tell me that he can't start anymore, but he only has bad starts, so he always has to come back.
"Each time he enters the field in twentieth or worse, starting on the second row. Of course he is not as explosive as Mathieu van der Poel and Wout van Aert, but he should be able to make better starts. It's like he's being a little nonchalant."
He added that the Brit doesn't seem disappointed when he loses.
Pidcock has a string of races still left on his cyclo-cross calendar but is undecided on whether he'll race the World Championship as he wants to be in good shape for the classics season.
But my colleague Tom Thewlis spoke to an analyst yesterday who thinks he can defend the rainbow jersey he won last year without compromising his road season.
Happy 97th birthday to Jacques Marinelli
Let's wish a happy birthday to Jacques Marinelli the oldest living holder of the yellow jersey who is 97 today.
In the 1949 Tour the diminutive Marinelli took the jersey on stage four and the next day grew his lead to 15 minutes after he and Fausto Coppi were in the break and crashed.
Journalist Peter Cossins writes in his excellent book The Yellow Jersey that he "stole away like a thief" and was nicknamed The Canary.
But he was no match for the titans of the day such as Gino Bartali, Coppi and the like and would eventually cede the jersey to Fiorenzo Magni on stage 10, which crossed the Pyrenees from San Sebastian to Pau.
🎂 Happy birthday to the earliest living holder of the Yellow Jersey: 🇫🇷 Jacques Marinelli (97 today) - he took it all the way back in 1949.🎂 Très joyeux anniversaire à 🇫🇷 Jacques Marinelli (97 ans), plus ancien porteur du Maillot Jaune encore vivant, c'était en 1949. pic.twitter.com/cJlLjtAVxBDecember 15, 2022
See more
UAE-ADQ unveil 2023 kit
The winter launches of new kits seemed to have dried up in recent days so it's nice to see another new one today from UAE ADQ.
This sticks quite closely to their 2022 jersey but loses the white sleeve, reverses the direction of the fade and ads some geometric lines.
I quite like it, but I quite liked the last one. Tell us what you think @cyclingweekly or @vernpitt on Twitter.
Four grand tour winners confirmed for Tour Down Under
Grand tour winners Chris Froome, Geraint Thomas, Simon Yates and Jai Hindley are now all confirmed to be riding the Tour Down Under in January.
The first race of the WorldTour calendar is set to have something of a revival after strict lockdowns triggered by the Covid pandemic in Australia contributed to the race not running in 2021 or 2022.
The four grand tour winners have nine grand tour wins between them with Froome boasting the most with six (four Tours de France, a Giro d'Italia and a Vuelta Espana title).
His Israel-Premier Tech team is set to include Daryl Impey and 2022 Tour de France stage five winner, Simon Clarke.
Thomas, meanwhile, will get support from Ineos Grenadiers riders Luke Plapp and Ethan and Leo Hayter.
Thomas said: "The INEOS Grenadiers have got a strong line-up; a lot of good young guys and a local hero in 'Plappy' as well, so we'll look to race aggressively and try get as much as we can out of it."
Local hero Caleb Ewan is also set to start but his Lotto-Dstny team isn't making the trip to Australia and he is instead racing with the Australian squad.
Portugal slashes VAT on bikes
The Portugese government has taken an axe to the VAT charged on bikes in an effort to drive up their use.
Bikes will now attract the lowest rate of VAT available in the country at 6%, down from 23%, according to the European Cyclists' Federation.
It is estimated to save Portugese bike buyers hundreds of euros on any purchase.
It forms part of a broader strategy to increase the amount bikes are used to 10% of all journeys by 2030.
The European Union passed legislation in April this year to allow countries to drop the rate of VAT on bikes but Portugal has become the first country to take advantage of this.
The changes are due to come into force in 2023.
Rui Igreja from bicycle campaign organisation MUBi told the European Cyclists' Federation, "The reduction from 23% to 6% will make pedelecs and cargo bikes in particular more accessible.
"These have a high potential to substitute daily car trips, but their high price tag has been an obstacle to their adoption in Portugal. The yearly cost of this measure will be lower than what the current duty reduction on road fossil fuels costs per week."
Rapha sets target to make all wet weather gear PFC free by 2025
British clothing brand Rapha has set out to make all its water repellent gear free from perfluorochemicals (PFCs) by 2023.
PFCs are a group of chemicals with a lot of uses in water repellents and heat proofing technologies. However, they have been shown not to break down and can cause harm to wildlife.
In cycling they are used in durable water repellent (DWR) coated products like wet weather jerseys, jackets and tights.
Rapha's commitment comes as part of its annual impact report.
That report also revealed it has made progress on the number of products in its line that use 50% or more environmentally preferred materials, those are materials that use a lot of recycled or organic content. In the first half of 2022 20% of Rapha's production range fell into this category, up from 10% a year before.
It also significantly expanded its repair programme - with the aim of stopping damaged garments being thrown out - to 9,000 items in 2021 (the latest year for which there are figures) up from under 2,500 in 2020.
It also trumpeted that the company used 99% organic cotton across its spring/summer 2022 product line.
You can see the full details of the report on Rapha's website.
Astana keep 2022 kit for 2023
Astana Qazaqstan have "unveiled" their 2023 kit and, by their own admission, it's pretty much the same as their 2022 kit.
The most notable difference is it has lost the stars on the shoulders replacing them with the Qazaqstan name.
There are other sponsorship changes such as the disappearance of power company Caepco from the sleeves.
It was a solid kit to begin with, one of my personal favourites, so it's understandable that they've kept it.
👕 Our 2023 kit captured during the official photoshooting in Altea.Indeed, we kept the same design with just some small changes, but we love 😍 it!#AstanaQazaqstanTeam 📷 @SprintCycling pic.twitter.com/nOa2VaY6VSDecember 15, 2022
See more
Snow for this weekend's cyclo-cross World Cup
This weekend the cyclo-cross World Cup circus travels from Ireland to Italy at Val Di Sole for the race on Saturday.
Among those on the startlist are Mathieu van der Poel, Gianni Vermeersch, Puck Pieterse and Fem van Empel. I hope they all packed some thick gloves.
Sponsor banners being installed. 2 days to go. #CXWorldCup https://t.co/K6OGRIe8Gv pic.twitter.com/VdnTCju9SyDecember 15, 2022
See more
Remco Evenepoel on course to be better in 2023 than 2022
As this is a day ending in Y in 2022, Remco Evenepoel has been in the news today. The Belgian's team boss Patrick Lefevere told Belgian newspaper Het Nieuwsblad that the young prodigy is still improving.
That a rider of Evenepoel's quality is still improving at *checks notes* just 22-years old isn't terribly surprising.
However, my colleague Chris Marshall-Bell has been speaking to the World Champion's coach Koen Pelgrim today and he elaborated on where the Belgian star is at as he gets back into the swing of things after the off-season.
"The tests we have made so far it does look like he is better than last year," Pelgrim said while cautioning it was very early in Evenepoel's training. "It doesn't guarantee anything yet, but it's true for the moment he looks a little bit ahead on last year.
"We also see that with the other guys coming out of the Vuelta, or those who finished the season well or in good shape. When they restart they pick it up really fast again. There's definitely something to it [the correlation of finishing the Vuelta and starting well].
Chris asked Pelgrim how 2022's experience might make a difference in his bid to take the Giro d'Italia title. "In terms of preparation for the Giro, the things that worked well for the Vuelta we will repeat. It's not a copy and paste job but we'll be taking certain pieces of preparation and using them again.
"The Vuelta preparation was different as he had a whole bunch of races and was targeting other stuff. He was in very good shape. This time for the Giro he's starting in the winter from scratch and will have fewer races to use as a reference for his form, so the build up will be a little different."
Happy Birthday Amber Joseph!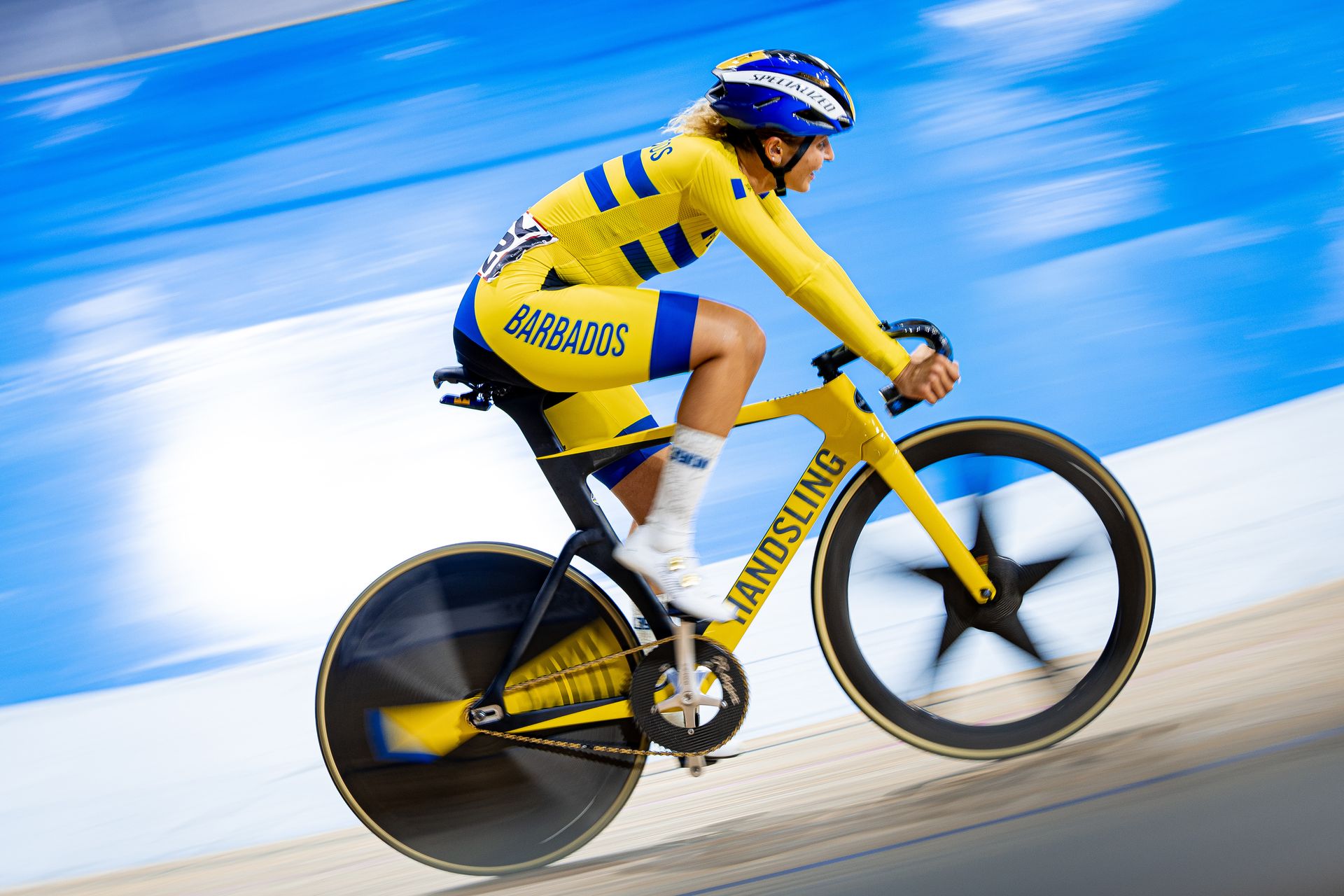 Today is Barbados rider Amber Joseph's birthday. If you don't know this Reading, UK, based rider and her fascinating story of how she came to be riding in Barbados colour's you should check pout my colleague Tom Davidson's story from a couple of months back.
You'll also get to know her parrot Nigel.
Egan Bernal hits the treadmill
Running is popular off-season pursuit for cyclists and Tour de France winners on the recovery trail are no different it seems.
I don't think you need me to translate his caption to english.
Peter Sagan's slow-mo legs
Have you ever wondered what the firing muscles of Peter Sagan's World Championship winning legs look like close up and in detail?
Well, wonder no more.
Adios!
That's it from the CW Live today, tomorrow we'll be back again to round up all the best news from across the cycling world. Have a nice evening.
Thank you for reading 20 articles this month* Join now for unlimited access
Enjoy your first month for just £1 / $1 / €1
*Read 5 free articles per month without a subscription
Join now for unlimited access
Try first month for just £1 / $1 / €1