Marcin Bialoblocki wins Metaltek Grand Prix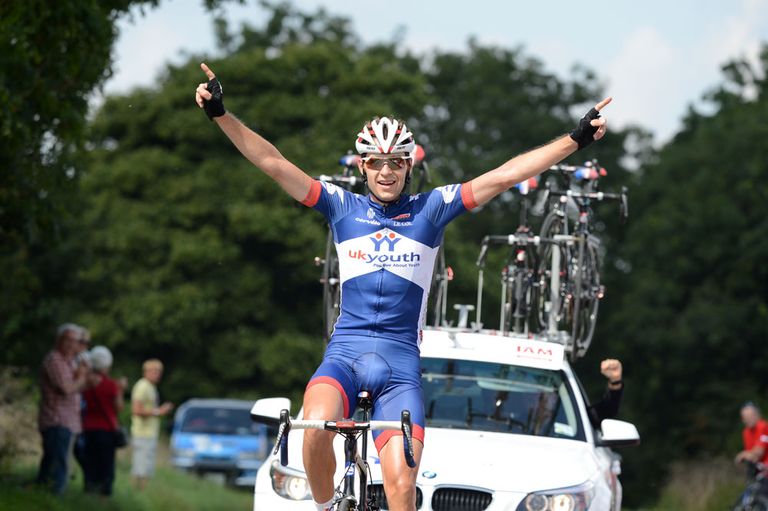 Marcin Bialoblocki (UK Youth) won the 2013 Metaltek Grand Prix on Monday from James Williamson (Node4-Giordana) and Tom Stewart (Raleigh).
The trio had broken away with Ben Greenwood (IG-Sigma Sport), Felix English (Rapha Condor JLT) and Chris Bartlett of (Metaltek-Knights of Old) in the first lap of six around the Harby Hill circuit in Leicestershire.
Their lead was never really challenged and going in to the final lap, Bialoblocki attacked over the top of the prime and was able to hold his gap over the final lap to solo to victory.
Result

Metaltek Grand Prix 2013

1. Marcin Bialoblocki (UK Youth)
2. James Williamson (Node4-Giordana)
3. Tom Stewart (Raleigh)
4. Felix English (Rapha Condor JLT)
5. Chris Bartlett (Metaltek-Knights of Old)
6. Ben Greenwood (IG-Sigma Sport)
7. Jon Mould (UK Youth)
8. Shem Rodger (Node4-Giordana)
9. Will Stephenson (Rapha Condor JLT)
10. Rhys Loyd (Metaltek-Knights of Old)
Escape group
Harby Hill
Bialoblocki attacks
Marcin Bialoblocki takes the solo win
Marcin Bialoblocki recovers after the effort
Related links
Metaltek Grand Prix 2013 photo gallery by Andy Jones