McQuaid: 'No truth' in Landis's claims of UCI protecting riders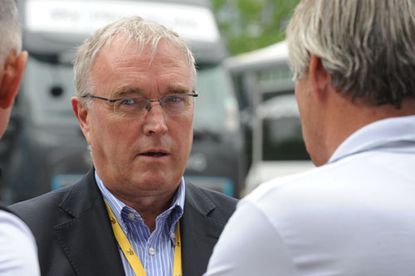 Union Cycliste Internationale (UCI) president Pat McQuaid is considering taking legal action against doper-turned-whistleblower Floyd Landis in response to the American's latest insinuation that the UCI 'protected' some riders.
At the weekend, Landis told French newspaper L'Equipe that "in the peloton, everyone knows that Pat McQuaid, [former UCI President] Hein Verbruggen and other leaders of the UCI have protected some riders and not others during the past 20 years. It was their way of manipulating and creating stars."
McQuaid has categorically denied Landis's latest claims in an interview published by the Irish Independent on Tuesday.
"It's very easy for Floyd Landis to make statements like that with no proof," McQuaid said. "Also, the journalist who interviewed him should have asked him for proof.
"He has already proven to be a liar and continues to be a liar. There is no truth in it, absolutely no truth in it."
McQuaid went on to say that it would be impossible to 'hide' doping results and protect riders because the World Anti-Doping Agency is party to the same test results as the UCI.
"All you have to do is look at the amount of big names that have been found positive over the years to show that I don't protect anybody and the UCI doesn't protect anybody," said McQuaid.
Landis is at the centre of a US federal investigation into Lance Armstrong after he alleged that seven-time Tour de France winner Armstrong used performance enhancing drugs and blood doping techniques during his career. Landis also claimed that the UCI accepted money from Armstrong, which the UCI subsequently says was used to purchase anti-doping equipment.
In mid-November, the investigation carried out by the US Food and Drug Administration into Armstrong moved to Europe. Lead investigator Jeff Novitzky spoke with the French anti-doping agency and representatives from authorities in France, Italy and Spain.
Landis was stripped of the 2006 Tour de France title and suspended from competition for two years after failing a test for abnormal levels of testosterone. He strenuously denied the charge for several years but came clean in April this year.
Related links
Contador doping case: WADA ready to appeal, Landis critical
Armstrong investigation arrives in Europe
Landis admits he doped and implicates others
Thank you for reading 20 articles this month* Join now for unlimited access
Enjoy your first month for just £1 / $1 / €1
*Read 5 free articles per month without a subscription
Join now for unlimited access
Try first month for just £1 / $1 / €1