Megan Guarnier to retire after World Championships
The UCI Women's WorldTour and Giro winner is looking to her "next life chapter"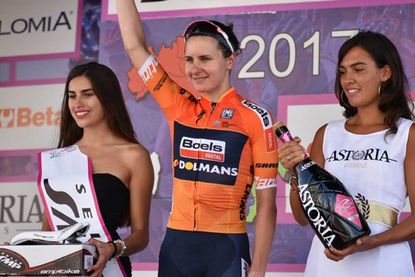 Megan Guarnier (Boels-Dolmans) has announced that she will retire from professional cycling after the UCI Road World Championships in September.
Winner of the 2016 Giro Rosa, as well as the inaugural UCI Women's WorldTour title in the same year, she will call time on her career following the hilly championships in Innsbruck, Austria.
"After eleven exhilarating and exhausting years, it is time for me to move on from professional cycling," she wrote on her announcement.
"I still love what initially drew me to this animated sport: the chess game with many moving parts," she said, adding "it has been my art and my passion. It is a skill that has been painfully forged with a lot of hard work, teamwork, dedication, and direction."
Guarnier joined women's cycling superteam Boels-Dolmans in 2014, and her career has been a steady upwards trajectory of learning - with her 2015 Strada Bianchi win representing a major breakthrough and acting as a sign of success to come.
The two-time US national champion commented: "Over the course of the past few years, I have seen much growth in our sport. With more media, more funding will come into women's teams providing more opportunity for female racers. Maybe even opportunities for racers, like me, who took just a few more years (or 10 in my case) to develop."
The 33-year-old went on to thank a huge number of influencers - coaches, team mates and others - who have impacted her career, beginning with Boels-Dolmans manager Danny Stam.
"I joined Boels Dolmans in 2014, when I was sure I was destined to have a career as domestique. Danny watched me work for Marianne Vos in the 2013 Giro, and thought I could win a Giro in the future."
A feat of course she achieved, alongside a host of gold stars for the team; "Danny not only had a vision, but he worked with us to make it a reality," Guarnier wrote.
Guarnier's career as a bike racer grew from what was effectively a gap year, following her graduation from college. She now wants to return to education, where she says she has a "promising academic streak" and perhaps start a family.
"When I first left the 'straight and narrow' on this crazy cycling journey, I made one promise to my Mom: I would leave the sport when it stopped being fun. I still love the sport, but the sacrifice in being away from my loyal husband and amazing family, along with the physical toll of 11 hard years as a clean athlete are catching up with me", Guarnier wrote.
"I haven't reached all my goals and I haven't done everything I hoped to do, however with excitement and some anxiety it is time to move on to my next life chapter," she said.
Guarnier's 2018 season has included a win at the Tour de Yorkshire, and she finished the Giro Rosa fifth overall behind dominant winner Annemiek Van Vleuten.
Thank you for reading 20 articles this month* Join now for unlimited access
Enjoy your first month for just £1 / $1 / €1
*Read 5 free articles per month without a subscription
Join now for unlimited access
Try first month for just £1 / $1 / €1