Merckx: Schleck should aim for Giro win rather than Tour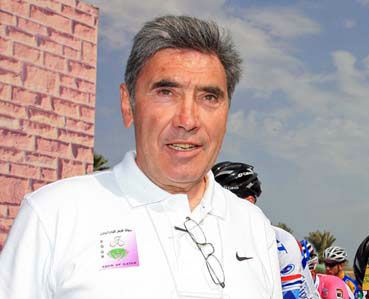 Cycling legend Eddy Merckx recommended on Monday that Andy Schleck should attempt to take a win at the Giro d'Italia before finishing second place at the Tour de France again.
"First at the Giro," Merckx told La Gazzetta dello Sport when asked which is better. He added that Luxembourg's star "has to race it to win it, without any halfway measures."
Merckx spoke yesterday as part of the 35th Sport Civiltà ceremony in Parma, Italy, where he received the Lifetime in Sport award. The Belgian won the Giro and the Tour five times each during the 1960s and 1970s.
Schleck raced the Giro only once before in 2007, when he made his Grand Tour debut. He finished second overall to Danilo Di Luca and won the white jersey of best young rider. He finished second in the last three editions of the Tour de France, this year losing to Cadel Evans by 1-34 minutes. His older brother, Fränk finished third overall.
The 2012 Tour route features nearly 100 kilometres of time trials and fewer summit finishes than this year, which will put Schleck at a disadvantage to Evans and Sky's Bradley Wiggins. The 2012 Giro route is lighter than in past editions, but still features six summit finishes. It also only has 72.4 kilometres of time trialling, compared to the Tour's 96.1.
Schleck said at the Tour presentation last month that he would have to work a lot on his time trialling and that the Giro route suits him better.
"I know [it does], but it is difficult to say," he said. Racing both of them "is too difficult as we saw this year."
Contador raced and won the Giro this year, and finished in fifth place at the Tour.
Pressed on the possibility of racing both, given the routes are easier next year, Schleck added, "We have to talk about it."
Merckx, regardless, sees Schleck in better hands now that Johan Bruyneel is managing his Leopard-Trek team. In September, Leopard announced it struck a deal with Bruyneel's RadioShack team. It incorporates his sponsors and 12 of his riders, racing under the name RadioShack-Nissan next year.
"With Johan Bruyneel he won't commit the tactical errors that cost him the Tour this year. Like when he shot off with Contador on the Galibier instead of attempting to give everything on the Alpe d'Huez stage," added Merckx.
"Contador is more complete; Andy always lacks something."
Bruyneel is open to the idea of Schleck racing the Giro, May 5 to 27. "Why not?" he told Belgium's RTBF TV at the Tour presentation.
Related links
Giro d'Italia 2012 route details
Tour de France 2012 route details
Andy Schleck: Rider profile