Midweek most wanted: Check out the new Trek Emonda, Quarq power meter and Giro Prolight Techlace shoes
A sneak peak at the latest and greatest kit we've got in our office that we just can't wait to use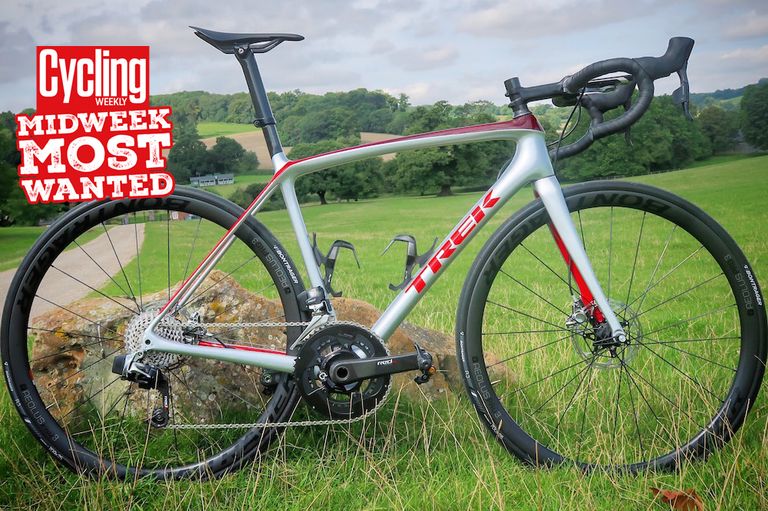 Welcome to CW's brand new feature, where we show you the hottest products in our office each week.
Whether they're in for review, or we just think they're dead cool, these are the bits of tech that we're most excited about and want to share, giving you a pre-emptive peak at what's hot in the world of cycling.
Trek Emonda Disc Race Shop Ltd
We've got hold of the brand new Trek Emonda Disc, equipped with the Race Shop moniker, which means it comes with all the trimmings.
In this case it means SRAM Red eTap HRD, top end Bontrager Aeolus wheels and the bike tips the scales at 6.5kg without pedals.
Quarq D-Zero Power Meter 8-Bolt Spider Assembly
Read more: Power meters – everything you need to know
This is the Quarq DZero power meter, but in 8-bolt spider form. It still has all the technical goodness of its counterpart, including Bluetooth low energy technology to save battery, and OmniCal tech – meaning you can swap chainrings without affecting accuracy.
Now, though, you can just buy the spider and retro fit it to a SRAM crank as an after market upgrade.
Buy now: Quarq DZero power meter 8-Bolt Spider Assembly at wiggle for £560
Giro Prolight Techlace shoes
Giro are known for there snazzy kicks but the Giro Prolight Techlace shoes are simply next level. They are the lightest shoes Giro has ever made, hitting the scales at a mind-boggling sub-150 grams for a size 42. That probably weighs less than the mobile phone you're currently holding, and at £346, could cost more!
Giro has managed it by scrapping the Boa dial used on the Giro Factor Techlace and simply using a "technical mesh" upper. Oh and a very special Textreme carbon fibre sole, too.
Wahoo Elemnt Mini computer
Wahoo recently announced the Elemnt Mini, a smaller, updated version of its popular Wahoo Elemnt Bolt computer. The Mini weighs a claimed 31g (we're yet to get it on our scales) and costs £79, which is cheaper than the Garmin Edge 25 and has more functionality.
Despite its diminutive frame it can still connect to your sensors but it does ditch the LED lights that both the Elemnt and the Elemnt Bolt have.
Pinheads wheel locks 3 piece set
These are a really neat idea that allows you to replace your quick release skewers with these anti-theft axles which sit flush to the dropouts, meaning any would be thieves can't nick your wheels.
Only you can undo them with the special key included in the box. Perfect for commuters!
Neon Crush Primal Arm Warmers
Want to look fly out on the bike this autumn? Then look no further than these jazzy arm warmers from Primal which'll keep you snug on those chilly mornings.
The warmers are made of Primal's Traverso material, a mechanically brushed back fabric that's exceptionally tough and refuses to look stretched or worn when put on.
Rule 28 aero socks
Aero socks? Whatever next! Well, actually these fine numbers from Rule 28 have been independently proven to save watts over a standard pair.
How so? Well, the textured material (within the UCI limit) allows the air on the legs to remain turbulent which reduces drag. Put basically, it reduces the low pressure behind the leg, which in effect pulls you backward.