Mixed reactions to possible Lance Armstrong confession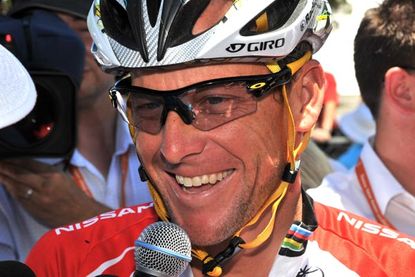 The idea of Lance Armstrong confessing to doping, as reported on Friday by the New York Times, has triggered mixed reactions.
According to the article, Armstrong will admit to using banned drugs and blood transfusions during his career in exchange for a reduction to his lifetime ban. In August, the US Anti-Doping Agency (USADA) banned him for life and stripped him of all of his results, including seven Tour de France victories.
The 41-year-old Texan always denied doping and sued to protect his name. He gave up his fight before the final USADA decision and, according to the New York Times article, met with officials recently about a confession. The idea is that a confession would limit his ban and allow him to return to competition. Until last summer, he competed in triathlons and running events.
"Who knows what Armstrong's motivation is now, but I hope that when he tells the truth, he tells the whole truth, the whole story and if he feels the need to name names, then do so," British Cycling's president, Brian Cookson told the Telegraph newspaper.
"If he feels the need to give evidence against other people, then do so, but let's not have any false accusations or innuendos. Let's have the full truth, a full disclosure of everything."
Jaimie Fuller founded Change Cycling Now in the wake of the Armstrong scandal to put pressure on cycling's governing body, the UCI. "[Armstrong] is obviously guilty," Fuller said. "[He should tell] the full truth, the complete truth, and not just the convenient parts of the truth. We need to know everything."
Two-time World Champion and Italian national coach, Paolo Bettini asked Armstrong to "spit it out".
"It'd be good for him and for the rest of us... Cycling has to be believable, and a confession by the American would be a chance to clear up everything and start over again," Bettini told La Repubblica newspaper.
"All the evidence points against him. He can't keep just leave the world of cycling behind, I can tell him that as an ex-cyclist."
Betsy Andreu, wife of former team-mate Frankie Andreu, testified in the SCA Promotions case that Armstrong admitted to EPO use during cancer treatment. She remains an outspoken critic of Armstrong, saying a confession would be worthless.
"Does he think people are completely stupid?" Andreu told the New York Daily News.
"This guy is like a Mafia don. Will he apologise to all the people who wouldn't lie for him? Will he compensate people for costing them jobs and businesses? How do you put a price on lost opportunities?
"Will he pay Christophe [Bassons] millions of dollars for forcing him out of the sport? Will he compensate Greg LeMond for ruining his bicycle business? Will he apologize to Emma [O'Reilly] for calling her a prostitute? Forgiving doesn't mean being a doormat.
"If people give this guy another chance, then people are dumb."
According to the New York Times, Armstrong has spoken to USADA CEO Travis Tygart and attempted to speak with the World Anti-Doping Agency (WADA). Tygart would not comment and WADA Director General David Howman explained that he has not heard from Armstrong.
"I would be open to any discussions. Never say never," Howman told ESPN. "I'm prepared to listen to anybody."
Related links
Comment: Don't get too excited about an Armstrong confession
Is Lance Armstrong on the verge of a doping confession?
UCI accepts USADA ruling and strips Armstrong of Tour titles
USADA's Armstrong doping report in brief
USADA publishes details of Armstrong doping case file
UCI responds to USADA Armstrong doping evidence
Former Armstrong team-mate Barry: 'Doping had become an epidemic problem
Hincapie admits to doping during career
USADA strips Lance Armstrong of seven Tour titles
Lance Armstrong to be stripped of his seven Tour titles
Judge dismisses Armstrong lawsuit against USADA
LeMond suggests changes need to be made to drug testing and UCI
Vaughters denies that Garmin team riders will be suspended by USADA
Armstrong attacks USADA for opening formal action against him
Armstrong banned from triathlons as new doping charge brought against him
February 4 2012: Armstrong holds off the law
Armstrong case dropped by US investigators
Armstrong investigation arrives in Europe
Armstrong's team mate Popovych testifies he did not witness doping
Armstrong's team-mate Popovych summonsed in doping investigation
Landis admits he doped and implicates others
Thank you for reading 20 articles this month* Join now for unlimited access
Enjoy your first month for just £1 / $1 / €1
*Read 5 free articles per month without a subscription
Join now for unlimited access
Try first month for just £1 / $1 / €1