Monsal Trail officially re-opens to cyclists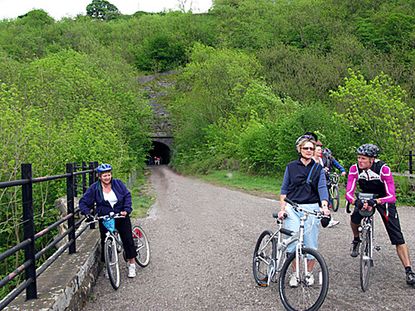 The Monsal Trail's four newly refurbished tunnels will be officially opened to cyclists, walkers and horse riders on the May 25 by the transport minister Norman Baker.
The Monsal Trail covers 8.5 miles of the former Midland Railway line and with the tunnels now re-opening it will enable all bikers, ramblers and horse riders to experience the original rail route from Blackwell Mill in Chee Dale to Coombs Road in Bakewell.
The majority of the trail's routing has been accessible since 1981 but the four disused tunnels at Headstone, Cressbrook, Litton and Chee Tor were closed back in 1968 at the time of the line closure for safety reasons.
The tunnels were bypassed by footpaths to go up and around them. Now, with the aid of government funding from the department of transport, each of the four 400m long tunnels has been lit and resurfaced to complete the old Midland Railway line route once more.
There will now actually be six tunnels in total to experience, the other two shorter tunnels at Chee Tor No.2 and Rusher Cutting already having been used by the existing Monsal Trail route.
The trail route passes through a beautiful area of the Peak District's White Peak and includes the fabulously named Water-Cum-Jolly Dale where Limestone crags meet the still waters of the River Wye.
There's plenty to see and do elsewhere along the route and for more info follow this link: http://www.peakdistrict.gov.uk/index/visiting/cycle/monsaltrail.htm
Cyclists in one of the tunnels
Litton tunnel
Tunnel warning sign
Having a rest on Monsal viaduct
Thank you for reading 10 articles this month* Join now for unlimited access
Enjoy your first month for just £1 / $1 / €1
*Read 5 free articles per month without a subscription
Join now for unlimited access
Try first month for just £1 / $1 / €1