Nebraska to host the inaugural USA Cycling Gravel National Championship
A stars and stripes jersey is up for grabs alongside the largest gravel prize purse in American cycling history and entry into Gravel Worlds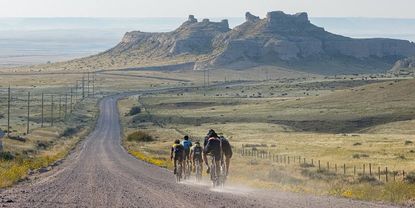 (Image credit: USA Cycling)
USA Cycling today revealed that an inaugural U.S. National Gravel Championships will be held on September 9, 2023, in Gering, Nebraska. In addition to the national title and coveted stars and stripes jersey, the event offers the largest gravel prize purse yet as well as an automatic entry into the UCI Gravel World Championships.
Gering will host both the 2023 and 2024 event and USA Cycling is offering a $60,000 prize purse for the Elite races, with an equal pay out for Men and Women.
"While this event is a benefit to our members and a long-awaited addition to the national championship calendar, we're not using a cent of membership dues to fund the prize purse, nor are we diverting funds from grassroots racing programs. 100% of the prizes will be funded by entry fees and sponsorship," said Quirk in a press release.
Some of the biggest names in off-road racing have already expressed interest in vying for the first-ever gravel title.
"I think gravel has quickly become some of the most competitive racing in the U.S., and I cannot wait to give it my all in Gering, Neb," said 2022 LifeTime Grand Prix winner Keegan Swenson in a statement.
The top three finishers in the men's and women's elite category at the national event will automatically qualify to take on the world's best at the UCI Gravel World Championships in Venetia, Italy, in October, and be given full support from USA Cycling.
"There's not much we can take credit for as Americans in the history of cycling. But gravel cycling has its roots deeply embedded here, and because of that, I see the USA Cycling Gravel National Championship as the natural progression in the development of our sport," commented gravel pro, Lauren De Crescenzo, who finished in the top 20 at the Gravel World Championship in 2022.
"The course has equal distance and prize money and represents what a true American gravel race should be. I would love to see an American win a World Championship, solidifying our place on the world stage, and in the process, grow our sport. A proper qualifier with USA Cycling backing is a huge step in making that happen."
Likewise, age group race winners will also earn an entry for their respective categories at Gravel Worlds but without support from the national governing body.
The race in Gering will be held on the vast network of dirt miles in Nebraska's Landmark Country, where riders will be treated to views of famous rock formations such as Scotts Bluff National Monument and Chimney Rock. These formations once served as landmarks for Native Americans and settlers traveling west on the Oregon Trail.
All courses will feature at least 90 percent gravel. And while organizers are still working to finalize the various race distances for all races, the Elite races will be no longer than 131 miles with just under 6,000 feet of elevation gain.
In addition to the Elite/Open categories, there will be various age groups, para fields, a non-binary race and even, a singlespeed category.
Registration will open Monday, July 14, 2023, at 10:00 a.m. MDT.
Thank you for reading 20 articles this month* Join now for unlimited access
Enjoy your first month for just £1 / $1 / €1
*Read 5 free articles per month without a subscription
Join now for unlimited access
Try first month for just £1 / $1 / €1