Neilson Powless on Saving Road Racing in America, Polka Dots and Parenthood
The top-ranked US rider talks us through his 2023 Tour de France, preparing for parenthood and his goals for next season and beyond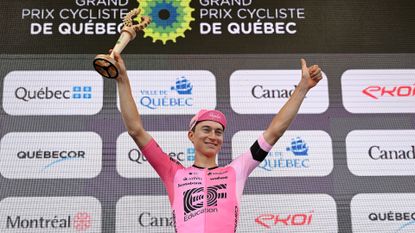 (Image credit: Getty Images)
Neilson Powless has had an awfully good year racing for EF Education–EasyPost. He won early in the season, stayed consistent with podium finishes throughout the season, and finished in the top ten in two Monuments —the Tour of Flanders and Milan-San Remo. What garnered the most attention stateside, however, was his spirited defense of the polka-dot jersey at the Tour de France, which he wore for the first two thirds of the race before, ultimately, finishing fourth in the category. We sat down with the 27-year-old American on an outdoor patio overlooking Baltimore's Inner Harbor the day before the Maryland Cycling Classic to talk about his year so far. The Mid-Atlantic region might not be well-known for it, but it sees some serious heat and humidity in the late summer months, which he'd been quietly preparing for ahead of America's highest level professional road race. Powless was relaxed and confident ahead of the race. He would place second, bettering his third place in 2022.
[Conversation has been lightly edited for clarity.]
Cycling Weekly: What was it like having Worlds earlier in the calendar this year? Were riders happy with the change?
Neilson Powless: It was different, but I feel like cyclists are good at adapting. I don't think anyone was disappointed or upset about it. The strongest rider [Mathieu van der Poel] won in the end; I don't think anyone can argue that. I felt like I was capable of a top 5, maybe even a podium, if things worked out really well but as soon as there's a tiny separation it's really hard to close those gaps. When Jhonatan Narváez crashed in front of me I was never able to get back to those guys.
Tell me more about your Tour de France.
I feel like at the Tour this year I was always trying to find my top level. I always felt like I was underperforming a little bit. I was able to race really smart and take mountain points where I could and I was still very capable of getting into breakaways, so the fitness was there, it just wasn't what I was expecting it to be. I was chasing that. By the end of the Tour I felt like I finally started to find it a little bit. And that gave me a lot of confidence for San Sebastián and the World Championships. If you're not on your hands and knees on the final stage of the Tour then that generally means you're going to be going fairly well for the next few months. It's kind of weird how that works out, but that's been my experience.
Is there anything you feel like you've learned about yourself now that you've raced the Tour a few times?
At the Tour de France you only have so many days you can go all in, so you definitely have to be careful. If you can be smart about those days, you can get a lot out of the race, as opposed to trying to go for it every day. This year going for the mountain points required me to go all in more than I would have done otherwise, so I maybe gave up some better stage results going after those points. But I learned a lot about the mountains competition. It was a different type of race than I was used to racing and that was really exciting. I definitely don't regret going for it.
Are you going to make the polka-dot jersey an objective in the future?
I'd really like to. Going for the jersey this year was bittersweet. If you commit that much energy to it and then lose it, it's a tough pill to swallow. I'll just have to decide [based on] where my fitness is coming into the Tour and how the races have gone up leading into it. If you're a top 5 contender, no one's going to let you go up the road to take mountain points. If you want to go for the mountain points, you need to lose time in the first few stages so that you're allowed to get up the road. It's tricky.
Do you have future GC ambitions?
I don't think GC in a Grand Tour is really something I'm thinking about too much, so for that reason I think I would like to win the polka-dot jersey one year. I would also like to win a stage of the Tour de France. Doing both of those is pretty tough. Each year I'll have to decide which one's going to be a better opportunity.
You've got some big changes coming your way this offseason (Powless and his wife Frances are expecting a baby in October). How are you feeling?
I'm pretty excited. I was really thankful to the team for letting me build a schedule around that. They were very accommodating, which is great. I've got an awesome wife and awesome family, so I'm going to be pretty excited to take on this new challenge. I think it'll make life a little more exciting.
Is parenting something you talk with other riders about? It's certainly a unique profession, and one not one that allows for things like disrupted schedules, illness, etc.
There's not a lot of people you can ask about it; not very many people are pro cyclists and are also raising kids. I've definitely been talking to [riders I know with kids] quite a bit. Poking them with questions every now and then, asking tons of questions about stuff that they've done, what was hard, what was good, what worked, what didn't. I guess everyone's experience is still going to be unique, so there's only so much you can learn.
Keeping in mind the offseason will be a little different (vis-à-vis having a baby) do you have a sense of what next year is looking like?
This year was kind of a revelation at the Classics, so I'd like to go there with a real goal of performing well. I may have started the season a little too hot this year. I was feeling so good in January and it's not like I tried to peak that early, but I think I tend to build fitness quite fast, so I just need to keep myself on a tighter leash this winter. My main goals are probably going to be March and April, and then obviously the Tour de France. Flanders is probably the one that sticks out the most. Even though I had a bit of bad luck, I still pulled off a really great result. If I could just eliminate one of those crashes then maybe I could even go one better. Hopefully I can take another good stab at Flanders.
Did you know you were capable of that result? [Powless finished fifth at the Tour of Flanders in 2023]
I'd just ridden third in Dwars door Vlaanderen two days prior, but prior to that I didn't know what to expect. I was just expecting to go to Dwars door and get some experience. Then I came to the realization: I just podiumed in a WorldTour cobbled classic and Flanders is in two days. This is crazy! I found myself in the situation and kind of rolled with it and it worked out really well. This year I'm going to try to make sure I don't overdo things before that.
I want to talk a little bit about the big picture, and U.S. road racing in general. Not that long ago, riders would be here for California, then again for Utah and Colorado before the WorldTour races in Quebec, but those American stage races have disappeared…
I hope they have more races. Everyone is excited about coming over to America to race. I would love to spend more time here, but that's not the case anymore, you can't really spend three months in America any more. I got one good year of [North American stage racing] when I was on Jumbo. That was a great season.
This year is different, with the baby, but normally my whole life is in Europe. I know that cycling in America is still big, but it's in different forms. Gravel is growing and high school mountain biking is definitely growing. That's encouraging. That's what gave me a really good foundation, NICA [National Interscholastic Cycling Association], when I was in high school. That's what started solidifying my love for cycling, just being able to go camping, and race your mountain bike and train with your friends every day.
It's a shame there's not more road racing, because you need road racing in America to transition into becoming a professional. I think as long as there's a love for cycling and it's growing in some ways, whether it's offroad, onroad, crits, road races, it can still attract athletes to cycling.
Maybe there are things to learn from gravel to reshape how races are run here?
Gravel has sort of imitated the way marathons are run. There are pros but there's also mass participation. It's financially beneficial for the organizers to put a gravel race on. Road racing in America hasn't quite gotten around to that. Look at the Tour of Flanders; they have the Sportive [Amateur ride the day before the race]. It's 50,000 people all paying 400 bucks. You get an incredible experience. You still race across all the cobblestones. You go through all the beer gardens. You actually get to stop at the beer gardens, if you want to, unlike us in the race. Same thing with Amstel. That creates,
1) An awesome event that anyone can enter and race over the same course on closed roads, and
2), it creates a more sustainable model for the race in general. I would hope that there are people out there still in love with cycling that are thinking about this already.
Everyone speaks so highly of the Tour of California, how awesome it was, how much fun they had. You have tons of WorldTour pros every year going on holiday in California because they got the exposure from the Tour of California. Geraint Thomas going to Malibu and Romain Bardet going to Malibu for training in the winter. I know Max Schachmann went to Sacramento a couple of times.
Your EF teammate, Lachlan Morton, is riding the Tour Divide route right now. Have you been following along?
Yeah! That dude's crazy, man. You see him drinking out of pickle jars and drinking gallons of milk. I'm glad that he's giving himself at least 6 hours of sleep a night.
Do you keep in touch with him while he's out there?
Not during, definitely not. But he still comes to training camps. I talk to him every now and then. I definitely miss him in the peloton. I miss him as a teammate. He's also doing something pretty wild and really cool. It's cool to see him doing what he's doing.
Lachlan's sort of on his own doing his alternative calendar. Do you think you might try something like that in the future?
It takes a special person. At EF we have a pretty awesome marketing team. And JV [Team Manager Johnathan Vaughters] is always trying to think outside the box. I haven't done it yet, but if i put my hand up to do something like that they would probably be all over it. I'm trying to be a little careful about saying what I would like to try because they would jump on it.
Thank you for reading 20 articles this month* Join now for unlimited access
Enjoy your first month for just £1 / $1 / €1
*Read 5 free articles per month without a subscription
Join now for unlimited access
Try first month for just £1 / $1 / €1