New cyclist-friendly junction layouts being trialled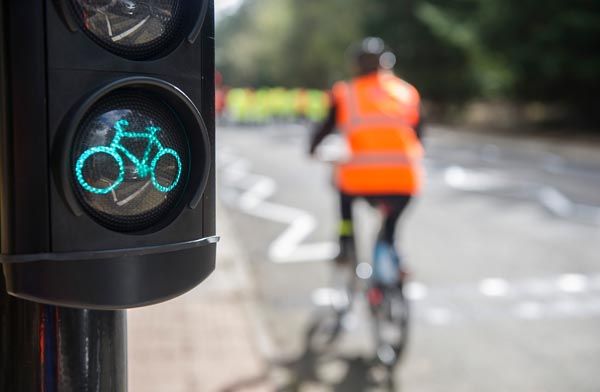 On Monday morning the Mayor of London's new cycling commissioner, Andrew Gilligan, joined officials from Transport for London (TfL) and the Department for Transport (DfT) at the Transport Research Laboratory (TRL) testing ground.
He cycled there, appropriately, to showcase the latest element of the Mayor's £913 million funding package for cycling in the capital over the next 10 years: improving junction design.
Not only is this to improve cyclist safety, it will be needed cope with the considerable increases in cyclist 'flow' that TfL planners envisage. By 2026 up to a seven-fold increase in cyclists on certain junctions in predicted. On Victoria Embankment for example, this would see 500-800 cyclists per hour rise to a staggering 3,800 per hour.
Safely dealing with that many bikes will require a significant overhaul of infrastructure. That's where TRL come in.
Testing times
TRL are perhaps best known as the company that load new cars up with crash test dummies before driving them into brick walls and filming it. What you might not know is that they can also do similar things with road design.
Their testing facility, nestled in a pine forest just outside Bracknell, has a 'Bletchley Park' feel to it. Part disused airfield, part brand new office complex, and part abandoned A-road, it is the sort of place where you can imagine teams of mathematicians in empty hangars, sweating away over difference engines trying to break the Enigma code.
At the same time teams of volunteers are recruited to drive, walk or cycle around TRL's test junctions as if in real life. It's a peculiar partial-reality; where a population in hi-vis jackets goes about its choreographed business on inch-perfect urban roads, set amongst swaying trees, while engineers watch on and take notes.
On these unnervingly futuristic test roads, and using their driving simulator facilities, TRL can construct and test almost any road junction they like, demonstrating how they work, how people use them, and what the impact on traffic will be.
In this case, contracted by TfL, they have come up with designs for a new cyclist-friendly 'Dutch-style' roundabout and low level, cyclist-specific traffic lights that change colour at the same time as a bigger set above them.
The roundabout is unlike anything this country has ever seen. Cyclists are given a segregated 'orbital' ring around the roundabout, approached by cycle lanes, which means motorists must give way both when entering and leaving the junction.
It's serious and expensive work. Peter Vermaat of TRL explained to CW that the trial roundabout took over two weeks to build. Although he couldn't say how much, the cost of the mock-up alone is understood to contain five digits.
The innovations are actually nothing new. The Netherlands (you guessed it) and many other countries on the continent have had similar junctions for years. Yet the designs are currently illegal on British roads; they need to approved by DfT before they can be installed anywhere in the UK.
Gathering evidence
The trial facility has its limits. The woods of Berkshire are a long way from the rush hour on the Elephant and Castle roundabout, and it is hard to visualise a perfectly perpendicular junction with three exits to 'Central London', 'East London' and 'South London' ever working in the urban jungles of the UK.
Yet that's not the point. TRL's role is to provide enough evidence for the junctions to be given the green light for a real-life pilot and, further down the line, incorporation into road legislation.
These trials demonstrate something more. If all goes to plan, TfL aim to install the first of these junctions in 2014 and approval by DfT would mean local councils could apply the same designs across the country. Change on our streets might be a few years off, confined at the moment to a sci-fi world of traffic modelling just off the M3. But the commitment to cycling is plain to see.
Watch the 'Dutch-style' roundabout in action on the BBC website>>
Related links
Boris Johnson unveils £913million plan for London cycling
Read Cycling Weekly magazine on the day of release wherever you are in the world with our iPad and iPhone edition - International digital edition, UK digital edition. And if you like us, rate us!