Nibali motivated by possible Contador duel at Giro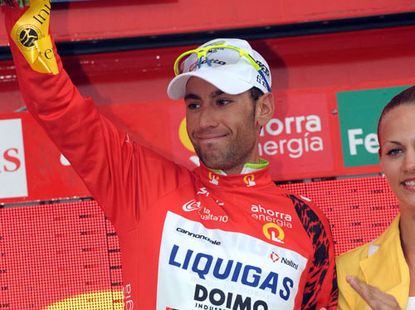 Italian Vincenzo Nibali begins his season today, five months after he won his first Grand Tour, the Vuelta a España. His next goal is another Grand Tour, the Giro d'Italia, and if Spain's Alberto Contador is there, all the better.
"It's another reason," said Nibali, "to push myself even harder."
He won last year's Vuelta a España at 25 years old, the youngest Grand Tour winner since Contador at the 2007 Tour. The win came at the end of a successful year, which included a stage win and third place overall at the Giro. He participated to support Liquigas team-mate Ivan Basso, who won the race.
Nibali, now 26, starts his season at the Tour of Sardinia stage race, which runs from today through Saturday. He never has started his season so late in the year.
"Between training and camps, the last one two weeks in Tenerife, I feel good. It's true, I am a few kilograms over and [producing] less watts with respect to the Vuelta, but that's normal, expected. Everything is fine," he told Italy's La Gazzetta dello Sport.
"I can't wait to start. I could no longer open the newspapers, turn on the TV or look at the internet, and see the others racing and maybe winning. I want to see everyone [at the races] again, take in the atmosphere and feel the electricity, to feel the goose bumps that come from an escape, an attack or the last kilometre."
Nibali will likely be Liquigas-Cannondale's sole leader at the Giro in May because Basso will likely skip it. Basso wants to focus on the Tour de France in July.
Alberto Contador may come to challenge Nibali for the Giro win. He won the race in 2008, but has not been back since, preferring to concentrate on the Tour de France. He won the Tour in 2007, and again in 2009 and 2010. He may lose last year's title and receive suspension due to a failed doping test for clenbuterol. The Spanish Cycling Federation (RFEC) cleared him last week, but the International Cycling Union (UCI) will likely appeal.
"I don't want to judge the decision," added Nibali. "The solution, albeit temporary, of his case is good for cycling. This same sort of immediacy should also apply to other cases that remain hanging. [Franco] Pellizotti has been waiting for almost a year and not racing - it's crazy."
Related links
Contador now cleared of clenbuterol charges
Thank you for reading 20 articles this month* Join now for unlimited access
Enjoy your first month for just £1 / $1 / €1
*Read 5 free articles per month without a subscription
Join now for unlimited access
Try first month for just £1 / $1 / €1