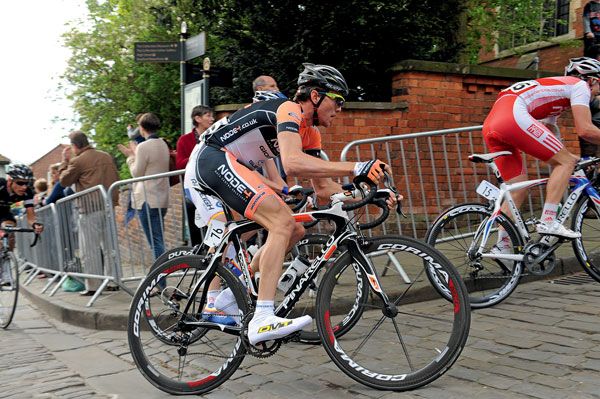 Tough times call for tough measures at Node4-Giordana, who are feeling the pinch of a budget cut in 2013 and in the words of directeur sportif Malcolm Elliott, go into the season as the underdogs, at least on paper, of the top six teams.



Nine new riders come into the team that placed first in the British Cycling rankings to replace the likes of Marcin Bialoblocki, Pete Williams, Matt Cronshaw and Dave Clarke, and they have a distinctly Antipodean feel.
"They came largely on the recommendation of Mike Northey," Elliott explains, "and they were previous team-mates at [now defunct New Zealand team] Pure Black. They've raced crits in the US, which are similar to our crits in that they are super competitive, so Phil [Griffiths, team owner] sees them as a core of the Tour Series team."
Griffiths will be keeping his fingers crossed that his Kiwi imports are more Russell Crowe than Daniel Bedingfield when they touch down at the beginning of April, but they do at least bring cohesion and experience racing together which could work well with one of the team's more recognisable riders, Olympic gold medallist Steven Burke.
"I am nervous about it," admitted Elliott, "I haven't actually seen them race. I'm conscious not to place too much burden of expectation on them, it will be a big change for them. I'll let myself be pleasantly surprised when they do perform."
Who's new?

Apart from all-new Team Madison-Genesis, Node4 have the highest proportion of new signings in 2013; 75 per cent of the team are newcomers. But they're not the only team who have been busy over the winter. Madison-Genesis: 100 per cent Node4-Giordana: 75 per cent Raleigh: 71 per cent
IG-Sigma Sport: 67 per cent UK Youth: 50 per cent Rapha-Condor-JLT: 42 per cent
CW likes: Life after Endura
Endura Racing last year were an exception: an exciting bunch of highly talented riders who managed to ride extraordinarily well together, dominating in the UK and punching well above their weight overseas.
We liked watching them, and we liked reporting on them. At times though, it felt like the team had such a monopoly on British racing that coming up against them was a bit like rivals rolling the dice only to land on Mayfair and find someone had built an enormous lime-green themed Scottish hotel on it. But this year, with the super-team disappeared or dispersed, the field is wide open and the British racing scene arguably looks stronger than ever before.
It's a new challenge for teams and riders, who will be fighting each other right down to the wire, and we can't wait.
| | | |
| --- | --- | --- |
| Damiel Barry (Nzl) | 25 | Benchmark Homes Cycling |
| Steven Burke | 25 | IG Sigma Sport |
| Lee Davis | 43 | Node4-Giordana |
| Nathan Edmondson | 23 | SC Cene Valle Seriana Elite |
| Richard Hepworth | 26 | CyclePremier Kovert |
| Steve Lampier | 29 | IG Sigma Sport |
| Andrew Magnier | 24 | Node4-Giordana |
| Michael Northey | 25 | Node4-Giordana |
| Shem Rodger (Nzl) | 24 | PureBlack Racing |
| Roman Van Uden (Nzl) | 24 | PureBlack Racinh |
| Christian Varley | 28 | B&L Bikes |
| James Williamson (Nzl) | 23 | PureBlack Racing |
>>> Back to 2013 British Team Guide home page >>>